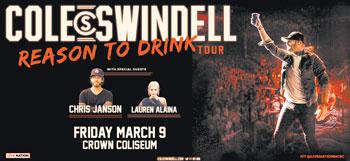 Country music fans in the Fayetteville area will soon have a reason to make the trek to the Crown Coliseum as Cole Swindell and the Reason to Drink Tour pull into Cumberland County March 9. The Reason to Drink Tour is part of the 82nd season of Community Concerts – a local organization that brings a variety of music acts through the Fayetteville area. According to Michael Fleishman, one of the Community Concerts organizers, the night will feature performances by Cole Swindell, Lauren Alaina and Chris Janson. "This really is a great bill," Fleishman said. "We think people are going to enjoy it."
Swindell is fresh off the fourth annual Down Home Tour, and the Reason to Drink Tour is his first headlining effort. The country music singer/ songwriter has broken industry records as the first solo artist to reach No. 1 on the country music charts with each of his first seven singles. Swindell is no stranger to the big stage, either, as he has performed with some of country's biggest names including Luke Bryan, Jason Aldean and Florida- Georgia Line.
Joining Swindell on his Reason to Drink Tour are special guests Lauren Alaina and Chris Janson. Alaina is best known for her appearance on "American Idol's" 10th season where she finished second only to Scotty McCreery out of Garner, North Carolina. Her most recent album, "Road Less Traveled," was selected a Top 40 Country and Americana Album of 2017 by Rolling Stone.
Swindell's other special guest, Chris Janson, has also experienced his share of country music fame. After writing singles for country mainstays like Tim McGraw, Janson found success when he selfreleased his debut single, "Buy Me a Boat." Janson went on to sign a major deal with Warner Bros. and released his second album, "Everybody," in 2017.
The Reason to Drink Tour is a part of the annual Community Concerts lineup. Community Concerts has been a mainstay in the Fayetteville arts scene since its founding in 1935. The nonprofit organization strives to bring "the finest top-notch entertainment to Fayetteville." According to Fleishman, when Community Concerts looks at booking an act for their concert series, they are not just looking to book a recognizable name. "I look for entertainment value," he said. "You'll never see a guy just sitting on a stool playing guitar. You're going to be entertained. We look for showstoppers, and this show is full of them."
Community Concerts does much more for the Fayetteville area than book nationally- touring recording artists. Community Concerts is the founder of the Fayetteville Music Hall of Fame and finds a variety of ways to showcase local talent throughout each year. Additionally, according to the organization's website, it sponsors free concerts for children and deserving seniors. Community Concerts also awards scholarships to local-area high school graduates who plan to study music in college.
Tickets for the Reason to Drink Tour at the Crown Coliseum range from $29.95 to $49.75 and are on sale now. Tickets can be purchased online at CapeFearTix.com or by phone at 888-257-6208. Additionally, tickets can be purchased at the Crown Complex Box Office and the Leisure Travel Office located on Fort Bragg. The concert is scheduled for March 9 at 7:30 p.m.