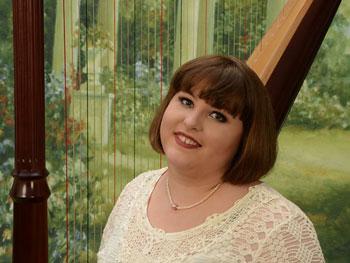 Fayetteville Symphony Orchestra presents "Americana," one of the last concerts in its "Gone to Carolina" season, this Saturday, March 10. The Fayetteville Symphony Youth Orchestra will join the FSO onstage for portions of the concert, which will feature a variety of songs that celebrate being American. Morgan Short, a 20-year-old harpist and the winner of FSO's 2017-18 Harlan Duenow Young Artist Concerto Competition, will also perform solo for a portion of the concert.
"From film scores to folk tunes to Sousa marches to classical works, the variety (in this concert) is quite nice," said Dr. Larry Wells, FSYO director and conductor. "Most of the pieces featured here are of the shorter variety. It should be a very audience- and child-friendly concert." Look forward to selections from classic American films like "Forrest Gump" and "Apollo 13" alongside work like Antonín Dvořák's "New World" and Morton Gould's "American Salute."
Wells said the FSYO, which the FSO formed in 2014, is important because it provides an opportunity for budding young musicians to practice with a full orchestra, which is normally not possible in school settings. In addition, he said, the FSYO is open through an audition process not just to 13- to 20-year-old public school students, but also to students who are home-schooled and who live outside of Cumberland County. About 75 students currently participate.
Every year, the FSYO puts on two concerts of its own and joins the FSO onstage for one other concert. Wells said, "The benefit here is that our young musicians get the chance to sit next to professional players in a professional setting. They get to hear exactly what their professional counterparts sound like and ... act like. … I always tell my kids, 'If you don't know what you're supposed to sound like, then how will you know when you're making a good sound?' This event gives them a chance to define (and) refine what their musical goal is."
"Americana" will also spotlight Short. Short, who studies harp at University of North Carolina School of the Arts in Winston-Salem, won FSO's 2017-18 Harlan Duenow Young Artist Concerto Competition. The competition, named in honor of FSO's longest-serving conductor, involves an essay, letter of recommendation and a video recording of the applicant playing a selected piece of music. It is open to young instrumentalists in the state of North Carolina. This year, it was open to woodwind, brass, percussion and harp students ages 12-21.
Short beat statewide competition to take first place, which includes a $1,000 cash prize for continued musical development along with the honor of soloing with the FSO. Jacob Warren, a 20-year-old saxophone player studying at UNC-Greensboro, won second place, and Jonathan McGarry, a 19-year-old French horn player studying at UNCSA (where Short studies), won third. Next year, the competition will be open to string and piano instrumentalists ages 12-21 in North Carolina.
Wells said the competition this year was fantastic. "This year, we chose (Short) because she was the complete package. Not only did she play beautifully, she performed beautifully," he said. "She is amazing. I hope Fayetteville shows her a good audience!"
Wells and Kastner agreed that the orchestra has flourished under new music director Stefan Sanders' hand. "If you have not seen him or heard the FSO lately, I urge you to come out and see ... what is happening," Wells said. "We are blessed to have him lead us."
Sanders said he's excited about "Americana" because it not only celebrates the nation's history – it also celebrates its future through meaningful collaboration with the next generation of musicians.
Kastner and Sanders are also busy planning FSO's next season, which will be announced in April. "I think we're going to have some real crowd-pleasers next year," Kastner said. "I will say: There will be 'Star Wars.'"
"Americana" takes place Saturday, March 10, at 7:30 p.m. in Methodist University's Huff Concert Hall. Arrive at 6:45 p.m. for a pre-concert talk to learn more about the historical context of the evening's music. To purchase tickets, which range from $11-$28, visit www.fayettevillesymphony.org.
Photo: Morgan Short