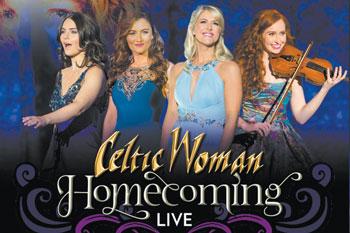 Time-weathered instruments and age-old songs passed down from one generation to the next, century after century, is a powerful representation of heritage. Translating this kind of heritage for a modern, increasingly global audience is no small task. But the Grammynominated group Celtic Woman has been perfecting this art since its debut in 2005. As part of its upcoming 90-city North American tour, Celtic Woman is performing "Homecoming Live" at the Crown Theatre Thursday, March 15.
The all-female Irish musical ensemble consists of four singers – Mairéad Carlin, Susan McFadden, Éabha McMahon and Tara McNeill – as well as Irish dancers, bagpipers and a full band. The group has created 14 albums and 10 television and DVD specials to date. The albums, even with changing vocalists, have made No. 1 on Billboard's World Albums chart for 12 consecutive years.
McMahon made her debut with Celtic Woman in 2015 for its 11th album, "Destiny." But her singing career first began when she recorded an album for a children's book at just nine years old. After that, she began singing in the traditional Irish style of sean-nós, literally meaning "old style."
Sean-nós is bare-bones singing in the native Gaelic language. More importantly, as per the Irish oral tradition of passing down history through song, sean-nós puts stock in the emotion and story behind the song.
McMahon went on to win professional singing competitions across Ireland before becoming the youngest member of Anuna – Ireland's National Choir – at just 15 years old. While still attending school, she toured with Anuna all over the world. After studying human rights at university, McMahon was asked to audition for Celtic Woman.
"What I love about being part of the group is that we can be totally ourselves," McMahon said. "I grew up singing in Irish, and my dream was to sing in the Irish style. It's very inspiring to be part of a group that promotes the Irish tradition and gives it a voice all over the world."
The North American tour embraces everything from traditional Irish, classical, musical theatre and folk music. Blending these genres together, McMahon said, makes "a really unique world music sound."
She even said this year's set list is her favorite of Celtic Woman's. In particular, McMahon sings one of her own idols' most famous songs: Enya's "May it Be." Performing the song "Danny Boy" for Celtic Woman has a deeply emotional significance for McMahon, too.
"The month that I joined the group, my grandad sadly passed away," she said. "It was his favorite song. Every night when we sing it, I think of him and I know he is watching from the best seat in the house."
There is a reason Celtic Woman is so internationally renowned, and that is its ability to bridge the gap between old and new. Contemporary Irish songs are performed alongside old tunes that might otherwise have been lost or forgotten. As McMahon said, "It really gives Irish music a new lease of life.
"The show really does have something for everyone. There are moments of laughter and toe tapping but also quiet and emotional moments of calm."
McMahon is releasing her own music later this year.
See "Celtic Woman: Homecoming Live" at the Crown Theatre Thursday, March 15, at 7 p.m. Visit www.crowncomplexnc.com to purchase tickets or to learn more.