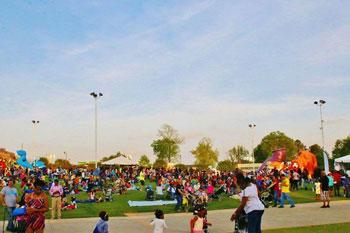 Six years ago at Epicenter Church, the topic came up (again) about how there were no local child-friendly activities during the Easter season. That same year, the congregation decided to hold an Easter egg hunt and invite the entire city. Hop in the Park was born. It was a huge success. So much so that the church decided to host one every year. This year, Hop in the Park will be held in Festival Park Friday, March 30.
"We knew after the wild success of our inaugural event that each year we would have to step things up," the event website said. "We have more than tripled the amount of food and events since the first event in 2013."
Last year, 30,000 people attended Hop in the Park, a number the event expects to exceed this year.
"Everyone is invited to attend, you do not have to be a particular resident or belong to any particular religious group," according to www.hopinthepark.com. "We welcome everyone! This event is rooted in a safe place for children to come have a great time and celebrate the Easter holiday."
While egg hunting is fun, Hop in the Park also includes snacks like popcorn, cotton candy, hotdogs and pizza.
There will also be carnival rides, inflatables, live music, a movie shown on a giant screen, and the Easter Bunny will skydive into the park.
The festival runs from 6-10 p.m. Hop in the Park is an event supported entirely by donations and volunteers, and tickets are free. Visit hopinthepark.com for more information about registering for tickets, donating or volunteering.