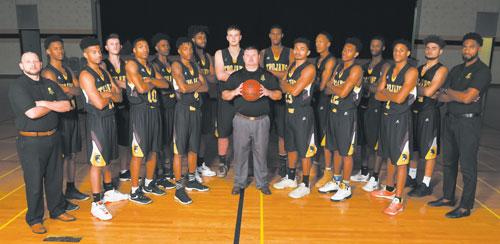 The Fayetteville Technical Community College Trojan Athletics Program returned to the basketball court in the fall of 2016 after a 41-year hiatus. Along with men's basketball, FTCC added women's basketball and men's and women's golf as new sports. Students and members of the community were excited to see FTCC add athletics to the college atmosphere.
The Trojans worked hard, and it did not take long for them to achieve success. The women's golf team won an early event at Anderson Creek hosted by Central Carolina Community College in October 2016, and the men won the same event in spring 2017. In addition to this win, the men beat NCAA Division III La Roche College at Tobacco Road.
Neither team was eligible for the post-season due to National Junior College Athletic Association guidelines for first-year programs; however, each brought home hardware in just their first season of play.
Coach Eric Tucker, who has a great deal of experience and local connections, leads the women's basketball program. He pulled together a full roster of players from the greater Fayetteville area and achieved some great wins. From the beginning, Tucker's goal was to be competitive and constantly build from there. He completed the season with a 9-15 record.
Recruitment went well for the second season. At the guard position, the team improved but without enough depth in the post to go deep in the strong conference. In their first year eligible, the Trojans finished at 8-18 with a win in the first round of the NJCAA Region 10 Championships.
The men's team had a more challenging start. The men were able to succeed in a few early wins before a 20-game losing streak. They broke the losing streak with a win on Sophomore Night as the season ended.
The men's second season proved to be much better. Coach Brian Hurd recruited a high-quality team. They won their first two post-season games and made an appearance in the Region 10 Final Four. With an overall 17-13 record, the team set a good course for the future.
The expansion of athletics teams at FTCC begins in the 2018-19 season with the addition of volleyball, softball and baseball. The coaches are recruiting players for each of these sports, and the teams are starting to shape up.
The Trojans compete in the NJCAA, in Division II in all offered sports. FTCC is in Region 10. FTCC appreciates the support of students, faculty, staff and the community as the school's athletic program expands to give students the wonderful elements that sporting programs contribute to the college experience.
If you are interested in learning more about a particular program, contact the appropriate party as listed below.
FTCC Trojans Athletics
• Michael Neal, athletics director: 910-486-3630, nealm@faytechcc.edu
• Brian Hurd, men's basketball: 910-678-1038, hurdb@faytechcc.edu
• Eric Tucker, women's basketball: 910-678-1039, tuckere@faytechcc.edu
• John Michael Cole, golf: 910-486-3912, colej@faytechcc.edu
• Moe Licardo, volleyball: 910-486-7343, licarlom@faytechcc.edu
• Miguel Justiniano, softball: 910-486-7344, justinim@faytechcc.edu
• Lee Troutman, baseball: 910-486-3630, troutmah@faytechcc.edu