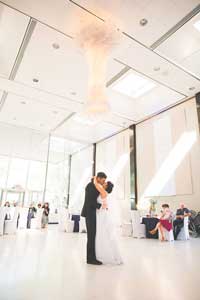 Wedding season is fast approaching, and in anticipation, SkyView on Hay presents its first annual Wedding Open House on Sunday, April 15, from 1-6 p.m. Here, bridesand grooms-to-be will find all things wedding-related, from cake to couture.
"This event is our first event of this type, and it is a time for the public to see the space that we offer to hold weddings, ceremonies, receptions and things like that," said Lindsay Salisbury, assistant manager of SkyView on Hay. "It is also a time for the public to interact with local vendors that offer awesome services; this is very different from the usual bridal show."
Salisbury added that the aim is to bring brides and grooms the full wedding experience
The wedding showcase will feature mock setups of the ceremony, reception and social hour that include décor, food, entertainment and vendors who are chosen for those spaces.
"We are anticipating about 24 hand-selected vendors to participate in our open house," said Salisbury. "It is a time for potential clients to speak one-on-one with these local vendors as well as myself and our manager, Krista Giles, about what they need."
Some of the vendors include Elite Catering, The Belmont Village, Indigo Earth Events, Debbie Bender Designs, ANG Event Management, Platinum Event DJs and Digital Connect to the Digital World. "We are also going to have our table that gives a favor to the early birds that come," said Salisbury. "They will also be given a chance to sign our wedding guest book and be entered for a raffle prize during the event."
Salisbury summed up the appeal of the event: "Instead of going to a bridal show, you will see a booth in which you will be able to walk up and see different mock-ups of what it could look like for your event.
"It will really give potential clients an idea and a visual as far as what they are looking for, and it gives them time for more one-on-one interaction with these vendors."
The Wedding Open House on April 15 is free and open to the public. For more information, call 901-486-4466.