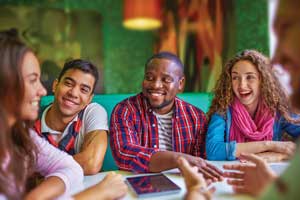 In 2016, a regional economic impact study declared Fayetteville Technical Community College's impact on the Cumberland County economy was $697.4 million in added income. Serving more than 40,000 students each year, this powerhouse of a resource strives to help the community thrive by providing more than 200 occupational, technical, general education, college transfer and continuing education programs. The FTCC Foundation, Inc., looks for ways to open doors for students to attend FTCC. While the foundation makes a big impact by funding things like tuition and books, the need is great, and money is often tight. The weekend of April 26-27, the foundation will host a Bluegrass and Barbecue Silent Auction and golf tournament to raise funds to support the foundation. Proceeds benefit FTCC students.
"Our goal is to raise $55,000 in scholarship and academic program support," said Lorna Ricotta, FTCC Foundation's executive director.
"Last year, the revenue from generous donors and guests permitted the foundation to award $21,322 for general scholarships and $10,000 for emergency student funds. In total, the foundation awarded nearly $200,000 scholarships for the year."
While $55,000 may not sound like a lot, Ricotta said having a scholarship can determine if someone starts or completes college – for many it is a determining factor. "It may be a transitioning soldier or a grandmother or a single mom working a couple of jobs. Our scholarships get them that much closer to their goal of getting a degree. We also have a lot of firstgeneration students."
The Bluegrass and Barbecue Silent Auction is April 26 at 6 p.m. at the FTCC Tony Rand Center, featuring The Barefoot Movement, a Nashville-based acoustic band. The group won a Momentum Award declaring them "Band of the Year" by the International Bluegrass Association in 2014 and has received several other awards . "They are a crossover with some country and some bluegrass," Ricotta said. "I look forward to the relaxed nature of this event. This is a fun come-as-you-are jeans and boots event. Enjoy the music, dance and have fun."
B&B Catering will provide the food. "B&B owner Bill Pannhoff is a graduate of our culinary program," said Ricotta. "It is exciting to see where our graduates end up."
"Beverages are provided by Healy Wholesale," Ricotta said. "They are always generous when we ask for help. And we are pleased to have Ebenconcepts as the presenting sponsor."
Some of the items up for auction include gift certificates, spa packages, restaurant gift cards, golfing packages, a mandolin and guitar lessons as well as student contributions. "The carpentry students are building a table and bench, and the culinary students are doing custom cakes," Ricotta said. "Their cakes are beautiful and yummy."
The golf tournament takes place April 27 at Gates Four Golf and Country Club. Registration is at 10 a.m. Lunch will be served at 11:15 a.m. Tee time is at noon. There will be awards for first and second place, closest to the tee and longest drive.
The event is open to the public. Visit https://www.faytechcc.edu/giving/ or call 910-678-8441 to register. Tickets for the silent auction cost $75. Tickets for the golf tournament cost $100.