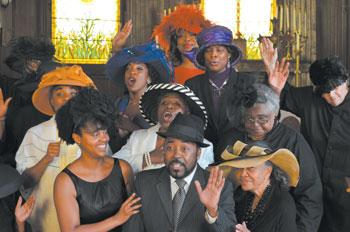 Hats off to Cape Fear Regional Theatre for wrapping up the season with a singing, shouting, footstomping good time with "Crowns, A Gospel Musical." Cast and crew deliver a fantastic story of overcoming tragedy and finding one's path.
"Crowns" runs through June 3. Don't wait to get your tickets; there are sure to be sold-out shows.
The show, written by Regina Taylor, is adapted from the book "Crowns: Portraits of Black Women in Church Hats" by Michael Cunningham and Craig Marberry.
Seeing "Crowns" onstage is a little bit like going to church, and a little bit like hanging out with some of the coolest gals in town. There are a lot of laughs and a few tears as the characters recount stories of their lives associated with their hats, or crowns.
I attended a pre-show chat with playwright Regina Taylor, where she shared not only her thoughts on "Crowns," but also her experience of being a Golden Globe award-winning actress, as well as her perspective from growing up with a single mother who encouraged her writing and creativity.
"Crowns is a celebration of African-American culture," Taylor said.
"The character (Yolanda) loses her sense of self with the death of her brother in Brooklyn," Taylor said. "Her mother sends her to South Carolina to live with her grandmother (Mother Shaw)."
But as Taylor explains, and we see in the musical, her mother sends her South to reclaim her from her grief. Yolanda no longer knows quite where she fits into things without her brother, who was her other half.
With Mother Shaw and her "Hat Queens," Yolanda starts hearing stories – markers in these women's lives that shape them and point them ahead on their paths.
"These stories are stories we've all been touched by (baptisms, funerals, happy and sad moments) ... about finding you have a community to lean on, to find your direction," Taylor said.
"We can put that on a stage and different people of all walks of life can see themselves, see their neighbors, who they think are so different…" and recognize commonalities, Taylor said.
It is a story of finding yourself and your voice in this world through the collective memories of who we are and what we have experienced. Though the subject matter is serious, CFRT delivers a fun show with amazing music, dance and hats – oh, the hats!
"Crowns" is worth the price of admission just to see the hats, and these characters wearing them, and I do mean wearing them – with style, with sass, with confidence. It's the kind of confidence that comes from truly knowing your value.
"Crowns" is directed by Donna Baldwin Bradby ("The Wiz"). The cast includes Cassandra Lowe Williams as Mother Shaw, La'Tonya R. Wiley, Chasity McIntosh, Sha'Air Hawkins, Janeta Jackson and Walter Johnson with Ariel Neema Blake as Yolanda.
All deliver terrific performances and shuffle between multiple characters as they switch crowns. Each has a turn to demonstrate their vocal talents, as well.
Everything about the show pays tribute to AfricanAmerican culture – from gospel hymns to dance moves. The songs are mostly traditional hymns sung in churches all over the South, with some blues and jazz. There's even a bit of hip-hop. The songs carry the message that trouble doesn't last, better times are ahead.
Choreographer Tina Yarborough Liggins included West African movements that are also reminiscent of shouting in churches. It was interesting to see these movements performed by the whole cast at times when shouting can be such an individual experience. It seemed to be symbolic of a collective joining to share in enthusiastic worship. It was fantastic and a testament to the talent CFRT gathered for this production.
This is a show you don't want to miss.
Tickets for "Crowns" range from $17 to $32 with discounts and group sales available. For more information about the show or special events, contact the box office at 910-323-4233 or visit www.cfrt.org.