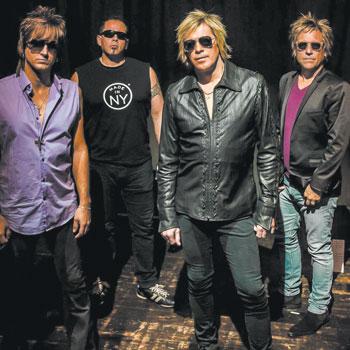 Fayetteville After 5 presented by Bud Light brings Slippery When Wet, the Ultimate Bon Jovi Tribute Band, to Festival Park. A local summertime entertainment staple, Fayetteville After 5 is set for Friday, June 8.
"This is the second installment in our Fayetteville After 5 summer concert Series," said Sarah Suggs, marketing and events coordinator. "We open at 5 p.m. with the music beginning at 6 p.m."
The event usually opens with local talent, and this concert is no different. This month's evening will feature local band Matrix as the opening act.
The purpose of the Dogwood Festival Organization is to provide free events for the community. "The After 5 series really helps us raise more money to go towards our Spring Festival," said
Suggs. "We want to make the festival bigger and better each year." Suggs added that each event is a fundraiser for the next event.
Slippery When Wet was formed in 2003 by Jason Morey. The band members are Jason Morey, Adin Stickle, Jimmi Botsford and John Martin. The band has played over 1,500 shows throughout
the United States. They were the headliners for more than 60 cruises on the Royal Caribbean Cruise Line and played for the pre-game of Super Bowl 48 in East Rutherford, New Jersey. In 2018, Morey was chosen to perform as the only impersonator to Jon Bon Jovi in the Legends in Concert show.
"We are hoping this will be the most successful After 5 season yet," said Suggs. "We look forward to a huge crowd – so come out and enjoy good food and music."
Food trucks will be on-site. Beer will be available for purchase. No outside food, coolers or beverages will be permitted. Bring your blankets and chairs. Gates open at 5 p.m.
The concert is free and open to the public. For more information, call 910-323-1934.