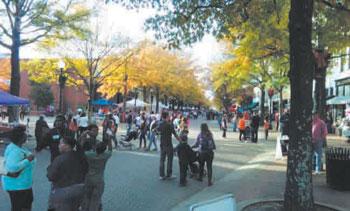 June 22 marks 4th Friday in downtown Fayetteville. It is an exciting time the check out the new exhibits and activities. Every month, Cool Spring Downtown District sponsors a theme and coordinates with downtown businesses and galleries to host activities within that theme. It's fun for the merchants as well as people who come to explore the small galleries, bookstores, bistros and shops while seeing exhibitors and artists of all types.
This month's theme is commUNITY, to celebrate the diversity within the community. Business owners will have posters set up with their stories of when they first felt like they were a part of the community, and a gift basket will be given away to those eligible after taking selfies with the stories of the owners.
Every year, the Arts Council of Fayetteville/Cumberland County invites the community to submit artwork for its ever-popular unjuried exhibit, "Public Works." More than 150 pieces of art representing the diversity and creativity of this community will be on display through July 21. For details, call 910-323-1776.
The Ellington-White Gallery University Art Faculty Exhibit features the works of visual art faculty members from Fayetteville State University, Methodist University and Fayetteville Technical Community College. The exhibit will hang through June 30. Call 910-483-1388 for details.
Fascinate-U Children's Museum brings a touch of whimsy to each 4th Friday celebration with activities for children. This month, visitors can learn paper folding techniques to create three- dimensional sculptures. Visit www.fascinate-u.com to learn more about Fascinate-U and the many summer activities it hosts.
The Market House of Cumberland County holds monthly exhibits on local history for 4th Fridays, and this month, World War I is on display in the "Fayetteville – 'Over There'" exhibit along with its more permanent exhibit, "A View from the Square: A History of Downtown Fayetteville." Call 910-483-2073 to learn more.
The Cumberland County Public Library will hold a local author showcase at 7 p.m. at the Headquarters Library. Local authors will be available to meet and talk to the community about their books and many writings, providing the chance to recognize and learn more about local authors and the diversity of their writing inspirations. To make a reservation for a table at the annual Local Author Showcase, visit theartscouncil.com/opportunity/local-author-showcase-cumberlandcounty-public-library.com and follow the instructions for submission.
The June 4th Friday event is all about the commUNITY and unifying those in the community, locals and tourists, with events, shopping, galleries, exhibits, artists of every kind, entertainment and more. Call 910-223-1089 to learn more.