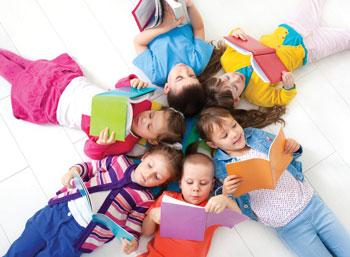 This summer, two library systems, Fort Bragg's Throckmorton Library and Cumberland County Public Libraries, will host summer reading programs. The programs are designed to encourage reading among all ages through activities, events and prizes.
The goal of these programs is to combat a phenomenon known as the "summer slide," or summer learning loss. Summer slide is the tendency of students in the summer to lose some of the knowledge and academic skills they learned during the school year. Research shows, on average, students lose a month's worth of school-learning over summer vacation, with declines in math and reading. The loss grows more substantial as student age increases. Reading is shown to help counteract the effects of the summer slide, and libraries hope to encourage readership through their summer reading programs.
Fort Bragg's summer reading program, held by Throckmorton Library, runs from June to July. Though it has already begun, anyone can sign up throughout the six weeks of the program.
The program has an event each Wednesday from 11 a.m. to 12 p.m. The activities include the "Children's Song Hour" on June 20 to help children learn letters, syllables, words and sentences through music. The June 27 program is titled "The Parisian Juggler – Paris." Another event is "Living in a Vacuum, the Liquid Nitrogen Show: Space" on July 11. This event will show science in action through experiments involving vacuum chambers and liquid nitrogen. July 18 is themed "Saddle Up 'N' Read with the Amazing Teacher, Steve Somers: Cowboys." The program concludes on July 25 with "The Rockstar Magic of Chris and Neal."
All Throckmorton Library summer reading events are free and open to all ages. The summer reading program is sponsored by Fort Bragg Federal Credit Union, Triangle Rock Club, Pioneer Services and USAA.
Cumberland County Public Library's summer reading program began June 1 and ends August 15. Readers of all ages are encouraged to join, with the library hosting visitors such as Pete the Cat and Clifford the Big Red Dog. There will also be crafts and experiments focusing on science, technology, engineering and math. Readers who progress through the program will earn prizes. Teens and adults who participate may win gift cards. The gifts are provided by the Friends of the Library, and there is a limit of one prize per person.
For more information on Fort Bragg's summer reading program, and to register as a reader, visit: https://bragg.armymwr.com/promos/2018-summer-readingprogram.com
For more information on Cumberland County Public Library summer reading program, and to register as a reader, visit: http://ccplbulletins.blogspot.com/2018/05/summer-readingprograms-because.html.