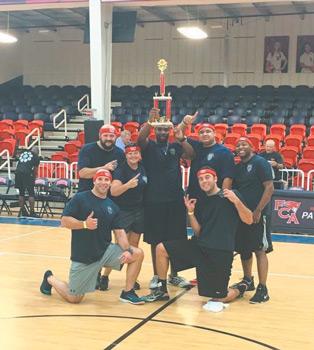 Diabetes is a serious medical condition that affects over 29 million Americans, and many of them don't even realize they have the disease. Better Health presents the "Diabetes ... Dodge! It Dodgeball Tournament" Saturday, Aug. 25, at 9 a.m. at the
Freedom Courts Sportsplex on Gillespie Street.
"This is a fundraising event to support Better Health and its programs because it falls in line with our mission," said Amy Navejas, executive director of Better Health. "Our mission is all about being active, getting out there and doing something different. Even if you are not the best dodgeball player, just getting everyone out there moving and participating together is important for all ourprograms and clients.

"Diabetes is incredibly prevalent, and the rate of diabetes has nearly doubled in the past 20 years," said Navejas. "It is a serious issue in the United States and something we have to start taking seriously. And the best way to avoid it is to prevent it." Not only do adults have the disease, but children have it as well. "You usually would not see Type II diabetes in children, but that's becoming increasingly frequent these days," said Navejas. "A lot of it has to do with our lifestyle and needs for changes in our diet as well."

In that vein, Better Health plans to increase programming on the topic. "In September, we are kicking off a new program called Fayetteville Fit. This program has been done in Durham at Duke Hospitals," said Navejas. "We were fortunate to be selected as the fourth site to branch out in North Carolina. Children who are obese will be referred to the program, and their entire family is eligible."
Better Health is a nonprofit charitable organization that provides diabetes awareness, education and self-management clinics, childhood obesity prevention and education, loans of medical equipment, and emergency medical needs such as critical prescriptions, dental clinic care, vision and travel assistance.
"This is our 60th anniversary," said Navejas. "During that time, we have assisted many clients with our small staff." Navejas added that in 2017, Better Health saw over 6,000 clients and that Better Health only has two full-time employees and a handful of part-time employees.
"We are really over here hustling and doing what we can to get the information out there and touching lives to help get the word out about how we can improve health outcomes in Cumberland County," said Navejas.

Registration for the tournament, which costs $150 per team, is open through Aug. 22. Admission is $5 for
spectators. Register and download forms at www.betterhealthcc.org. For more information, call 910-483-7534.
Photo: The Fayetteville Police Department (above) won the 2107 Diabetes ... Dodge It! Dodge-ball Tournament.