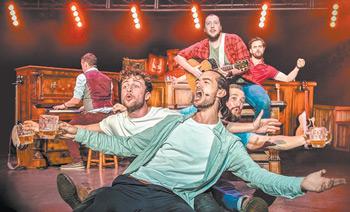 Community Concerts celebrates its 83rd season this year with a full slate of diverse entertainment. The 2018- 19 season opens strong with "The Choir of Man" on Wednesday, Oct. 10, at 7:30 p.m. at the Crown Theatre.
Billed as the "ultimate feel good show," "The Choir of Man" is more than a concert. It's a 90-minute fun-filled party complete with singing, dancing and just the right amount of good-natured carousing.
The multitalented cast features nine handsome blokes that sing pub tunes, folk songs, Broadway hits and classic rock, including the works of Adele, Queen, Paul Simon, Katy Perry and Red Hot Chili Peppers. The performers are world-class tap danc­ers, acrobats, singers, instrumental­ists and poets.
"The Choir of Man" is the latest show from Nic Doodson and Andrew McKay, the creative duo behind Soweto Gospel Choir, The Magnets and North by Northwest.
"The guys have spent the last couple of years touring the UK and Australia, and they are ready to bring this show to American audiences," said Doodson. "This concert is such a great time for all – whether it's a ladies night, first date, guys night out or even a bachelorette party! So, grab your best mates and we'll see you at the venue."
The second performance of the Community Concerts season will be by Grammy award winner Michael McDonald at the Crown Theatre. Set for Tuesday, Nov. 27, at 7:30 p.m., this show is a part of McDonald's "Season of Peace" tour. The Steely Dan and Doobie Brothers alum has won five Grammys and has pro­duced several chart-topping hits. He's also collaborated with many prominent artists.
His latest album, "Wide Open," was released Sept. 15 and includes collaborations with Warren Haynes, Robben Ford, Marcus Miller and Branford Marsalis. This is McDonald's first album of original material in 17 years. It was recorded in his Nashville studio over a number of years with drummer Shannon Forrest, Faith Hill, Tim McGraw, Toto, Blake Shelton and Nashville session musicians.
Three Dog Night heats up the stage at the Crown Feb. 22. This legendary group had more top 10 hits and sold more records and more concert tickets than any other band between 1969 and 1974.
The band includes founder and lead vocalist, Danny Hutton, along with Michael Alsup, Paul Kingery, Pat Bautz and David Morgan.
Songs like "Mama Told Me Not to Come," "Black and White," "Shamba­la and "One" keep fans coming back year after year.
Hall of Famers and iconic coroners The O'Jays are the fourth concert of the season. Scheduled for March 15, the concert will include chart-top­ping fan favorites like "Love Train," "Put Your Hands Together," "For the Love of Money," "I Love Music," "Darlin' Darlin' Baby (Sweet, Tender, Love)," "Livin' for the Weekend" and "Use Ta Be My Girl."
April 4, America closes the Com­munity Concerts season. The band has six Gold or Platinum albums with 11 Hits and have been inducted into the prestigious Vocal Group Hall of Fame. They topped charts with "A Horse with No Name" in the 1960s and dominated the '70s with "I Need You," "Ventura Highway," "Don't Cross the River," "Tin Man," "Lonely People" and "Sister Golden Hair."
Community Concerts was started in 1935 and is Fayetteville's oldest art organization. The nonprofit's mission is to bring top-notch entertainment to Fayetteville and the Fort Bragg/ Cumberland County community at affordable prices.
Purchase tickets online at CapeFearTix.com or by calling 1-888-257-6208. For season tickets, visit www.community-concerts.com or call 910-303-3996.