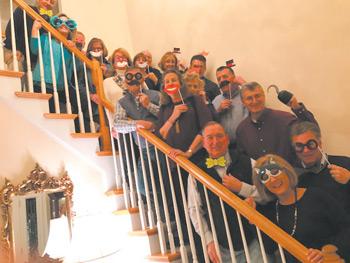 Every year, The CARE Clinic hosts a dinner – an Evening of CARE. It is a fun, intimate evening of food and fellowship. Local residents assume the responsibility of hosting and serv­ing a dinner. The hosts choose how many guests they can accommodate, many opening their homes for the evening. They provide the location, beverages and appetizers while The CARE Clinic provides the main meal - unless the hosts wish to do that as well. While the dinner is not until Feb. 2, now is the time to sign up to be a host (or to purchase tickets).
"This fundraiser is unique because you are doing it in your own home and you can do it any way you want," said Cynthia Deere, The CARE Clinic development and marketing direc­tor. "When it started 22 years ago, hosts were holding it in their homes and using fine china and crystal. That has changed. Last year, we had a host who did the dinner, and after everyone ate, there was a band and firepit outside. They basically threw a party. We had people who, because the next day was the Super Bowl, they did a pre-party. You can do a game night or a girl's night out. It doesn't have to be a formal affair.
"We want to get young people involved and let them know they can have fun with it. We do have people who still do the formal dinners, and we love that, too. Put your own spin on it."
Deere noted that the host gives a brief explanation about the purpose of the dinner and what The CARE Clinic does.
Two years ago, because of Hurricane Matthew, a number of host homes could not participate. This is a concern this year as well because of Hurricane Florence.
"We would really like to see people sign up to host. This is our biggest fundraiser of the year," Deere said. "There are many people that have either hosted or attended the event since the beginning. If you are not able to host a dinner on this specific date, you could hold it the following weekend and provide your own food."
In 2018, the Evening of CARE raised more than $60,000.
"What many people don't realize is that it costs about $44,000 a month just to keep The CARE Clinic doors open," said Deere. "So, if this raises $60,000, that is only six weeks of ser­vice to people.
"The biggest need we have is phar­maceuticals. Our patients who come in and need medicines like antibiot­ics, diabetes medications or things like that, can get them filled with us at no cost to them."
The clinic offers multiple services ranging from basic medical care and chiropractic care to commu­nity resource information, social services and limited referrals to specialists. To be seen at The CARE Clinic, patients must be: an adult; be uninsured; meet a household income requirement; and have a valid and current NC DMV picture ID or license.
Patients of the clinic seeking a medical appointment must call between Monday and Thursday from 9 a.m. to 2 p.m. For dental appoint­ments, patients must call on Fridays from 9 a.m. to noon. Patients are seen every Tuesday and Thursday as well as the second and fourth Wednesday evenings.
Visit www.thecareclinic.org or call 910-485-0555 for more information about how to become involved with The CARE Clinic and the Evening of Care.