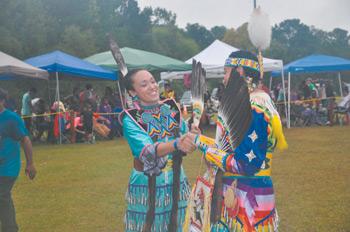 The ninth annual Running Water Singers Powwow is set for this Friday, Oct. 12, from 5-11 p.m., and Saturday, Oct. 13, from noon-11 p.m., at 102 Indian Dr. in Fayetteville.
"A Native American powwow is where several different tribes come together, and we dance, sing and do everything that has to do with our culture," said Bradley Jacobs, event representative. "There will be handmade crafts and beadwork, speakers, dancers, Native American flute music, a hand drum segment, 20 cultural dances and competitions, three food vendors, 20 merchandise vendors, cultural songs, the honoring of veterans and much more."
Jacobs added that some individuals make a living by selling their handmade crafts at all the powwows throughout the East Coast.
"We hold our powwow at Les Maxwell Indian School; it is the school where all Native Americans from Cumberland and surrounding counties were bussed to during segregation," Jacobs said. He added that the opening ceremony is a significant part of the events each day. "There is one thing that we always do at the beginning of the powwow each day, and that is bring the American flag, Native American flag and our sacred Eagle Staff out."
One of the highlights of the powwow is the delicious Native American food. Look forward to Indian fry bread, buffalo burgers, buffalo Indian tacos, col- lard sandwiches and more.
Like most cultures, dance plays a big part in Native American history. "There will be $10,000 in prize money for the Native Americans who compete in the dance competitions," Jacobs said.
Native American cultures across the United States are notable for their wide variety and diversity of lifestyles, customs, art forms and beliefs. "The pow- wow is more for cultural awareness and is open to the public, so you can come out and see how we really (are) rather than how TV portrays us," said Jacobs. "We don't go scalping people, and we don't hit (anyone) over the head with sticks."
Native Americans have a rich history and a lot to share, which is why powwows are so important – so they can share their heritage with people who want to learn more about Native Americans and their tribes.
"My grandfather, Chief James Pernell Jacobs, was the first Indian chief that was elected by ballot for the Coharie Indian Tribe of Sampson County," said Jacobs. "He was awarded so many awards throughout his lifetime, received the Jefferson Award and was known for helping his tribe and others no matter what." Jacobs added that growing up, he was taught about unity and helping others.
The nonprofit organization is always in need of donations to support the event. "We do a lot of legwork, and we ask people we do business with for help," said Jacob
"The only thing we reap from the powwow is to educate the public and help the young kids to not lose their heritage."
This is a drug- and alcohol-free event that is open to the general public. Admission is $7 for adults, $5 for youth ages 7-12, $5 for seniors 60 and older, $5 for military with ID, and free for children ages 6 and under. The weekend pass is $12. For more information, call 910-308-7249.