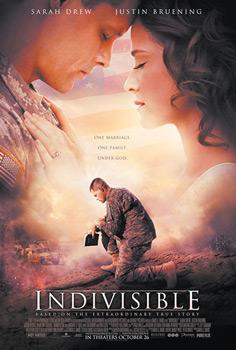 I met Army Chaplain Darren Turner and his wife Heather at a movie screening a few weeks ago. My wife and I were invited to attend and learn more about the movie, which was pitched as an inspiring new film about families finding the faith and love to fight through hardships that threaten their marriages. Chaplain and Mrs. Turner attended because the movie was their story. Literally.
"Indivisible" revolves around the true story of Darren Turner – an inexperienced Army chaplain who believes his faith and resolve will transcend circumstances. He finds himself haunted by battlefield experiences that put his marriage in jeopardy.
If you've lived in Cumberland County or around the military for long, you have likely encountered wives like Heather Turner: strong, supportive and ready to fight for her marriage. In the movie "Indivisible," we see a reflection of those wives as we witness how this resilient family bravely fights to reintegrate with each other and for love to ultimately win.
"'Indivisible's' true story shows there is no marriage too broken for God," said Director David Evans. "We hope husbands and wives who see the Turners' story on film will stop fighting one another and join forces to fight for their marriages together instead."
"Indivisible" isn't just another movie – it's a tale of heroic love and the will it took for a marriage to survive both the rigors and aftershocks of combat. This extraordinary true story follows a couple whose lives are fully devoted to serving God, family and country. From the comfort of a seat in a movie theater, we see that devotion face its greatest foe as war etches deep battle scars – both overseas and on the homefront – as the Turners' rock-solid marriage is shaken to its core.
Each carrying burdens the other can't comprehend, they must decide if they're willing to face one more battle: the fight to save their marriage.
The film premieres in theaters nationwide, including AMC's Fayetteville 14, on Oct. 26, featuring Sarah Drew, Justin Bruening, Jason George, Tia Mowry and Madeline Carroll.