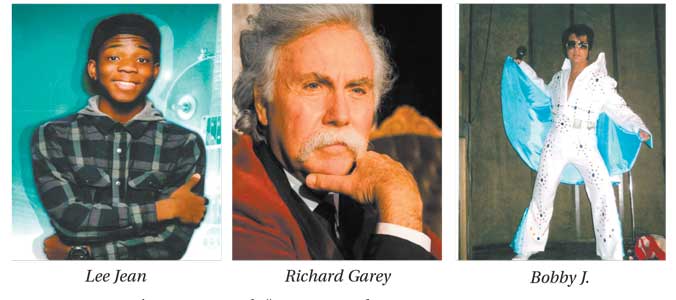 Paul Thompson, owner of Paul's Place, is multifaceted. In addition to being an entrepreneur, he is a veteran, a musician, a comedian and now a producer. He's bringing these passions together Nov. 10 for "A Patriotic Dinner Theatre" at VFW 670.
"I am (a retired Army first sergeant), and I was at VFW 670 for a wake," said Thompson. "I looked at the facility and thought it would be a great place to put on a show. I talked to the commander and decided to do something to help get (VFW 670) back on its feet. I got a great chef – a young lady who is starting her catering service – and got together some good entertainment."
Not only is Thompson helping to organize the event, he is also the master of ceremonies for the evening. "I am an amateur comedian," Thompson said. "I have been on comedy stages at Myrtle Beach. I will do some comedy and introduce people. I host a lot of events at Paul's Place, but this is my first show that I have produced."
Lee Jean Music, Richard Garey from "Mark Twain Himself," and Elvis and Neil Diamond tribute artist Bobby J. will share the stage.
Lee Jean is a former "American Idol" competitor. "He placed in the top eight in season 15 of the show in 2012," said Thompson. "He's good." Jean is known for covering song from the folk, soul and pop genres.
"I went to high school with Richard Garey," Thompson said. "He owns a theater in Missouri where he does a lot of Mark Twain, including his play 'Mark Twain Himself.'"
Garey has entertained audiences in the United States, Canada and Bermuda for more than 30 years. He has committed more that seven hours of original Twain writing and letters to memory and interacts with the audience as Twain to provide an engaging experience. Garey said that while no two shows are exactly alike, all of his shows are 100 percent Twain.
Garey credits his high school English teacher/ drama coach for inspiring his acting career. "If you can hold the interest of high school sophomores for nine months, you can rivet just about any audience for 90 minutes."
"Making people happy," said Bobby J. "That's my reason for doing my tribute to Elvis." As a performer, J. said he has performed all over the continent "from New Jersey to Venezuela."
He's performed with Bobby Rydell and been featured on the "Today" show as well. He loves creating an energy with the audience no matter where he performs; it's what keeps him returning to the stage. "I take pride in duplicating the voice and the moves that made Elvis famous," J. said. "I am constantly working on my craft."
Thompson said the audience can expect to see both of J.'s impersonations – a set featuring a Neil Diamond impersonation and another featuring Elvis.
The evening's menu features a choice of two meats – a ribeye roast or herb-crusted pork loin – and includes two vegetables and dessert. "I've tried the food," said Thompson. "It is delicious. This event is a sit-down dinner. And it will be a familyfriendly show."
Thompson added that if the event is a success, VFW 670 has invited him to produce dinner theaters there quarterly.
Dinner is at 6 p.m. The show starts at 7 p.m. on Nov. 10th and will be at VFW 670 at 3928 Doc Bennett Rd. Tickets cost $30 per person or $50 per couple.
Call 910-476-9524 or visit Paul's Place at 719 Starling St. in Fayetteville for tickets and information.