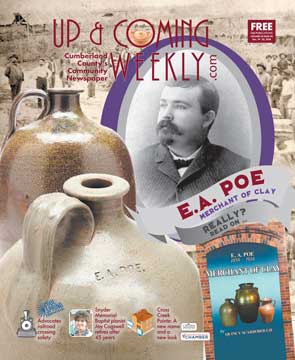 Who was Fayetteville native Edgar Allan Poe? Was he a poet? A brickmaker? A potter?
The Edgar Allen Poe in question was not a poet, although he shares his name with one. He did, however, own a local brickmaking facility. In fact, his bricks were used in buildings and roads not just in Fayetteville proper, but in Hope Mills, Wilmington, Mount Airy and Wilson, North Carolina, and as far south as Bennettsville, South Carolina. Poe's foundries and manufacturing facilities also produced clay pipes, drains, tiles and many other products. But was E. A. Poe a potter?
Though many North Carolinians proudly own pottery with the maker's mark "E.A. Poe" or "POE & CO," they might be surprised to learn that Poe never actually made a single piece of pottery. Instead, he hired potters to work under his label and sold their jars, jugs, butter churns, pitchers and vases wholesale to merchants who in turn sold them in retail shops. Many of the jugs and jars we now hold near and dear as valuable collectables originally sold for 10 cents apiece.
Local author Quincy Scarborough delves into the particulars of Poe's brickmaking and so much more in his latest book, "E.A. Poe: Merchant of Clay." The book follows the life and career of Edgar Allan Poe, one of Fayetteville's most significant producers and businessmen in the late 1800s and early 1900s; details the history of brickmaking in the Sandhills; and gives insight into what life was like here during that time.
Scarborough was born and raised in Fayetteville. His wife, Betty, hailing from Cumberland County, considers herself more of a country girl. The pair share a passion for local history and the craftsmen and their work that helped shape life in the Sandhills.
For years, Quincy and Betty hosted one of the state's most well-attended Christmas craft fairs. They continue to promote and celebrate both makers and history, and even history-makers, but now it's through books.
In addition to "Merchant of Clay," Quincy has written and self-published books about Carolina metalworkers, North Carolina stoneware, The Webster School of Folk Potters and the Craven Family of Southern folk pottery to name a few.
"We just love things that are handmade," Quincy said about his passion for fine craftsmanship.
"And we love sharing that with people and putting it into context," Betty added. "E.A. Poe: Merchant of Clay" does just that.
Edgar Allan Poe was born in Fayetteville. His father, John Cooper Poe, owned a dry goods store on Hay Street and later a tobacco and grocery store. He was also town commissioner in March of 1865 when Gen. Sherman and his troops left town.
Edgar was one of 16 children and was born in 1858 at his family's home on Ramsey Street.
At just 22 years old, and newly married, Edgar went into the brickmaking business. An astute marketer and self-promoter, Poe's name became synonymous with well-made, high-quality brick as well as other useful items, including spittoons, flower pots, floor drains, butter keepers and other everyday items.
Articles and ads about Edgar Allan are a common sight in the pages of The Fayetteville Observer from that era. He took his image so seriously that, around 1855, Edgar had an engraving of himself made. It was used frequently to make his image in newspaper articles and promotional materials.
In 1897, local builder Ruffin Vaughn built the Poe House on a lot that was originally part of the U.S. Arsenal. Edgar and his wife, Josephine, had seven children when they moved into the house. They had another child later.
The Poe House is yet another contribution Edgar made to Fayetteville. The Poe House is currently owned by the North Carolina Department of Cultural and Natural Resources and is part of the Museum of the Cape Fear Historical Complex. It is also listed in the National Registry of Historic Places.
The Poe House is open for tours Tuesday through Sundays. It showcases what life what like in the first decades of the 20th century. Tours cover women's roles, African-American history, children's roles, and technological, economic and social changes in southern North Carolina and the country.
There are also seasonal events and celebrations at the Poe House. Currently, the Poe House is decorated for Christmas in period splendor. It will remain decorated until Jan. 6. Admission is free. It is open for tours Tuesdays through Fridays at 11 a.m., 1 p.m. and 3 p.m. It is open for tours from 10 a.m. to 4 p.m. on Saturdays and from 1 to 4 p.m. on Sundays.
Find out more about the 1897 Poe House and the Museum of the Cape Fear online at https://museumofthecapefear.ncdcr.gov.
Copies of "E.A. Poe: Merchant of Clay" are available at The Museum of the Cape Fear, C Pottery in Seagrove, Jugtown in Seagrove, leading museums and on eBay. Or, email Quincy at qscarborough@aol.com or call him at 910-483-2040.
Quincy will also be at the next Gallery 208 opening reception at 208 Rowan St. from 5:30-7 p.m. Jan. 15, 2019. Call 910-484-6200 to find out more about the gallery opening.