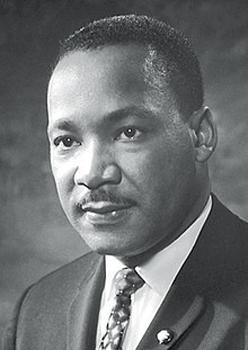 The Fayetteville Cumberland County Ministerial Council presents its 26th annual "Honoring Dr. MLK's Legacy" Prayer Breakfast Monday, Jan. 21, from 8 a.m.-10 a. m. at the Crown Expo Center.
"Our keynote speaker this year is Joseph High, who is a recently retired corporate executive, and this is his third retirement," said Dr. Maxie Dobson, president of The Fayetteville Cumberland County Ministerial Council. "I think that everyone will enjoy him. … He is a direct recipient of benefiting from the legacy of Dr. King, and I am grateful that he accepted to be the speaker for the 2019 prayer breakfast."
Dobson added that one of the goals for the breakfast this year is an expeditious execution, saying he would like for it to be no longer than two hours. The reason is that, typically, there are 1,500 attendees who have to get through the breakfast line.
The event also includes a day of service component. "The tradition has been that we encourage all who are attending to find some means of rendering some service in honor of the holiday; (it's for those who are inspired by) the encouragement by Dr. King's wife to make it a day 'on' rather than a day 'off,'" said Dobson.
He continued, "For many individuals, it is an off day from their regular job. But (Dr. King's wife) said rather than considering it an off day, consider doing some kind of service in your community."
The Fayetteville Cumberland County Ministerial Council's theme for this year's event is "Seize the Moment."
"The theme is to promote a sense of urgency ... to first identify the opportunities that the individual can engage themselves to facilitate and then make it an urgency to do so," said Dobson. "The Tabernacle of Miracles Church is collecting socks and blankets for the homeless, and it is very satisfying to know that we will be able to contribute those to the homeless shelter."
Dobson speculated on what Dr. King would say about the present state of America if he were alive today. "I think Dr. King would ... rightly assess that the values … he espoused — particularly to love community — are not being pursued in a large-scale way," said Dobson.
"I think that he would encourage us not to allow what he gave his life for to be in vain. (I think he would us encourage us) to remind ourselves that we are one community and to celebrate our differences as opposed to finding an occasion to condemn our differences based upon whatever ideology one may choose."
Dobson added, "I believe we can anticipate our best breakfast yet. We look forward to seeing everyone at the event."
Tickets cost $20. For more information, visit www.fayettevillemincouncil.org or call 910-624-7785.