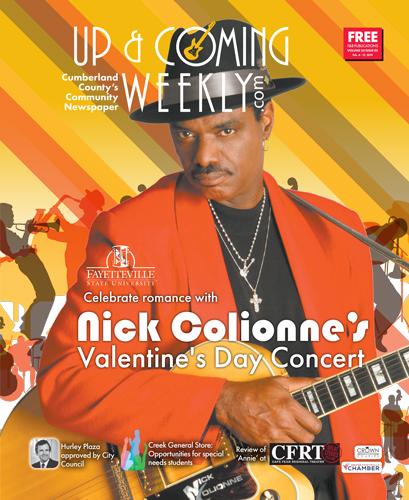 "It's something about being able to express yourself through notes," old-school jazz guitarist Nick Colionne said of his love for the genre. "A lot of people don't get into jazz or instrumental music because they don't take time to know that there's a story being told in instrumental music just like there's words. I mean, there's commas, periods, questions." Fayetteville audiences will get a chance to hear what Colionne has to say through music when he brings "Nick Colionne's Valentine's Day Concert" to town Thursday, Feb. 14. The concert takes place at Fayetteville State University's J.W. Seabrook Auditorium.
Colionne, who grew up on the West Side of Chicago, Illinois, is the winner of national and international awards for his music and showmanship. He traces his connection with jazz to "being that my stepfather and my mother listened to nothing but Wes Montgomery. ... (That music) touched me in my heart," he said.
His stepfather played guitar, and by age nine, young Colionne was learning to play.
"When I got my first electric guitar, I had to learn Bumpin' on Sunset' note for note," Colionne said. "To this day, Wes Montgomery is still my hero."
Six years later, 15-year-old Colionne was regularly playing high school talent shows with The Mellow Tones, a band he'd formed with a few buddies. They even won a citywide talent show.
He was also cruising around town in a shopping cart due to his lack of a vehicle. "I was a free-playin' guy," he said. "I was goin' around in a shopping cart. And that ain't so easy in the snow in Chicago."
Then, one summer afternoon, he bumped into Mavis Staples (of the Staples Singers) and Artis Leon Ivey Jr., better known as Coolio, in the common area of a recording studio space. "I told them I played guitar, and I knew a couple of the older guys who played with them," Colionne said. "They said they needed a guitar player, so I went upstairs to another studio and auditioned for them.
"That was a Monday. On Wednesday, I went on tour with them."
From that point on, every summer until he finished high school and then more regularly after graduation, he toured with the Staples Singers and other performers, including Curtis Mayfield and The Impressions. He briefly joined a heavy metal band at age 17, he admitted with a laugh, but he returned to jazz after a few years.
In 1994, he released his first solo album, "It's My Turn." That was the beginning of a career in which he'd receive numerous accolades. Among them, he won the International Instrumental Artist of the Year Award at the Wave Jazz Awards in 2007; trumpet superstar Chris Botti had won it the year before. Colionne was nominated for that award again in 2009.
Colionne was nominated as Guitarist of the Year and Entertainer of the Year by the American Smooth Jazz Awards in 2010 and won Performer of the Year for the Catalina Island JazzTrax Jazz Festivals in 2010 and 2011, as well as Artist of the Year at the 2011 Rehoboth Beach Jazz Festival in Delaware.
He's also received awards for his now 22-plus years of mentoring youth — primarily at St. Laurence Catholic School in Elgin, Illinois, and some West Side-area schools — as well as his championing of breast cancer causes. He was recognized with the Wayman Tisdale Humanitarian Award in 2010, and he was named Alumnus of the Year at Malcolm X College in Chicago in 1996.
Though Colionne primarily mentors at schools near where he grew up and still lives, he also makes a point to visit schools and colleges when he's on tour.
He said he never set out to be a youth mentor. It started because the principal of St. Laurence asked him to play for a fundraiser for the school, back when Colionne was still getting established.
"I met the kids (at the school); they asked me to come back, and I came back," Colionne said. "Next thing I know, I was there twice a week, teaching kids to play the guitar. … Then I'm helping them put on passion plays and the Christmas program, and I'm chaperoning trips. Kids — when they love you, they love you unconditionally. The kids know I don't get paid for coming there. I come there because I love them.
"I don't want a check, I just want to be part of their lives."
One of those children whom Colionne taught to play guitar is named Chris. Colionne first visited his elementary school when Chris was 8 years old. Chris later attended college on a guitar scholarship. Today, he's worked as Colionne's road manager for many years and is taking a break from that to welcome his first child.
As for Colionne's work championing and raising money for breast cancer causes, he said this kind of work is a no-brainer for anyone who's had a loved one struggle with it. "My mother is cancer-free now," he said. "But my mother has had breast cancer four times. … My (significant other) had breast cancer. And I'm just a person. I don't want to see another woman suffer with it, and whatever I can do, I do."
A single conversation with Colionne makes it evident he's remained humble, grateful to his audiences and rooted in his deeply personal love for jazz throughout his 20-plus year career.
It's this attitude that's led to him being often referred to as the best-dressed man in jazz. "I'm an old-school kind of cat," he said. "I feel like people pay their hard-earned money to come and see me. I believe that for me to dress and look the best I can when I perform is showing the audience respect."
He said his journey has been exceptionally personally rewarding.
At one point, he said, he and musician Brenda Russell were getting ready to travel for performances when a man approached them. "This cat was coming across the parking lot, and he was calling my name. He was like, 'Man, I had to catch you. Will you sign this for me?'" It was one of Colionne's CDs. The young man asked Colionne if he'd be willing to play at a tribute for the young man's father.
"I was like, who was your father?" Colionne said. "He says, 'my father was Wes Montgomery.'"
For his upcoming concert in Fayetteville, Colionne said, "I might get onstage and flip the script. I don't think about it. I play what I'm feeling at the moment.
"I learned how to play guitar, God put the music in my heart, and I just let it go."
He added there's always a portion of his concerts called the "wild and loose section. We have only one requirement. If you have anything that will fall, take it off," he said, referring to the fact that audience members will be encouraged to get up and dance.
"Nick Colionne's Valentine's Day Concert" in Fayetteville takes place just about 25 years from the release of his first album. The show is part of FSU's 2018-19 Seabrook Performance Series and starts at 7:30 p.m., Feb. 14. J.W. Seabrook Auditorium is located at 1200 Murchison Rd.
For tickets and to learn more, visit www.uncfsu.edu/nick-colionne.