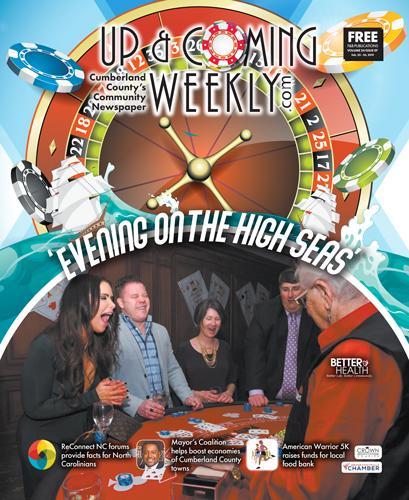 For nearly 61 years, Better Health has helped the medically underserved in Cumberland County — free of charge. For 22 of those years, it has also entertained the county with an "Evening of" fundraiser, which has evolved tremendously over the years. "It was initially held at the Cameo Theatre downtown," said Amy Navejas, executive director and CEO of Better Health. "And then it evolved a little more and became a live theater event." Soon after its beginning, the gala began to adopt a new theme every year. This year's theme is "Evening on the High Seas," to take place Thursday, Feb. 28.
Navejas is excited for the public to experience 2019's nautical theme. "We were just playing around with some ideas, and this seemed different and fun," she said. "It's flexible, and you can interpret it as a fun and silly cruise or a formal captain'sdinner- type cruise."
As it pertains to attire, anything goes. "Everybody has a different idea of what they want to wear," Navejas said. "I would say most individuals will be in cocktail attire, but it can be interpreted any way. That's how a cruise is — you're not out of place in resort attire, and even bathing suits are okay for a party at the casino."
Speaking of a party, the casino will make a reappearance this year. "Each year we bring back a casino, and it seems like everybody just loves it," Navejas said. The casino is sponsored by the Cobb Tilghman Group at Merrill Lynch, and the Wine Café and Morgan's Chop House sponsor other beverages.
Elite Catering will provide a variety of food for the event, to include pork and beef tenderloin, crab cakes, mini Salisbury steaks and more. "Every event I've been to that they've catered has been exceptional," Navejas said of Elite. "They do such a phenomenal job."
There's more to this event than food, however. "We also have a silent auction," Navejas said. "We've worked really hard this year to bring some packages from local businesses and donors and supporters." She added that there will be a returning casino game in which the player wins a cruise if their dice rolls spell the word "Harley," of Harley-Davidson. There are several opportunities to win.
"We've had winners every year," she said. "It's a lot of fun for people to do."
Overall, the "Evening of" gala is Better Health's largest fundraiser. "It used to be our only fundraiser event," Navejas said. "It's just a really fun way for people to come together and support a wonderful nonprofit that is doing a lot of good. Without (this fundraiser) ... Better Health would be a in a really difficult position."
According to Navejas, the gala's dinner and entertainment is not too formal. "It's not a seated meal. We are hoping to incorporate some skits and some songs, as well as a DJ."
Besides the silent auction and casino games, attendees should expect a few brief interruptions during dinner for some cruise-themed fun, along with more information about Better Health.
Better Health's backstory
Ruth Peters created Better Health in 1958 when she noticed that several of the ill members of her community were unable to pay for their prescribed medications. "Initially, we were started to address the need for medications for the uninsured," said Navejas. "That meant that we were going to the ER to give them those emergency medications."
The county health care systems couldn't afford to take care of these sick individuals who were not getting better, creating a cycle of sickness and poverty. As a solution to this problem, Peters established The Better Health Foundation of Cumberland County.
In 1991, The Better Health Foundation evolved into what is now Better Health of Cumberland County, Inc., a fulltime nonprofit organization that has become invaluable to the low-income individuals of our community. "We've definitely grown quite a bit," said Navejas. "It can be a challenge for a nonprofit, but the clients that we help are so incredibly grateful."
Navejas isn't alone in this opinion. One anonymous patient described her experience with Better Health: "I'd waited for at least 1 1/2 years trying to save enough money to have (a) tooth pulled. Did my best to keep it from getting infected with the Lord's help. I wasn't getting anywhere until The CARE Clinic told me about Better Health. You will never know how much Better Health helped me, and I will do whatever I can to help you guys."
Today, Better Health works to provide health care and assistance to low-income residents of Cumberland County, whether that be by education, referral or direct assistance. After two years, Better Health became a United Way Affiliate Agency. Since then, Better Health has created the first free Diabetic Monitoring and Education Clinic, along with the first free Medical Equipment Loan Closet. Navejas explained more about Better Health's programs: "We have diabetes education and clinics throughout the week, child obesity programs, and more."
In 2017, Better Health assisted 405 individuals at its diabetes center, 1,607 individuals at its clinic and 1,064 people who visited its exercise program. The organization experienced 100 percent patient satisfaction with its Medical Equipment Loan Program.
"Evening on the High Seas" takes place Thursday, Feb. 28, from 6-10 p.m. at the Cape Fear Botanical Garden, located at 536 North Eastern Blvd. To purchase tickets, or for more information, call 910-483- 7534 or visit www.betterhealthcc.org. Sponsorships are also available.