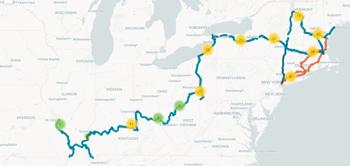 Fayetteville is known to many for its military neighbor, Fort Bragg. But Fayetteville played a large role in early American history, too, as has her namesake, the Marquis de Lafayette. Lafayette has been immortalized in both French and American history as a military officer, an aristocrat and a Constitutional advocate. He changed the course of history for our country and our city.
There are many groups and people that celebrate Lafayette's memory. One of them is French native Julien Icher. His initiative, The Lafayette Trail Project, is a historical trail based on Lafayette's footsteps during his 1824-25 Farewell Tour.
The trail not only celebrates Lafayette, it educates the public and uplifts communities. Icher's website, www.thelafayettetrail.com, explains his efforts: "Our goal is to provide localities whose history taps into General Lafayette with new incentives to increase tourism and benefit the development of local economies."
These efforts, in addition to the trail, include historical research, outreach, articles, lectures and more. The goal is to complete the project as the bicentennial of Lafayette's Farewell Tour nears in 2024.
When the towns of Cross Creek and Campbellton united in 1783, they named the city Fayetteville in commemoration of the esteemed war hero. Lafayette visited this city in 1783 during his Farewell Tour of the United States.
Historians agree that without Lafayette's support, the Americans would have lost the war for independence.
While generations of early Americans may have learned lessons from Lafayette, we can still learn from him today. According to Icher, "When Lafayette visited the country, the country was divided in 1824. In 2019, you also have a very politically divided America. It's a divide between the left and the right, the elites and the common American. And in 1824, Lafayette and his role give you an idea to bring together Americans and unite them."
Icher's robust inspiration, his belief in a common bond between our two nations, is a tribute to France, America, Fayetteville and Lafayette. Icher is proud of the historic relationship between America and France, explaining there exists "historical bands of friendship between the United States and France."
These historical bands, Icher explained, were molded by a common set of values that the French and American people share. He believes that Lafayette embodied these unique values of freedom, liberty and equality and that memorializing Lafayette is memorializing America's first ally, the French. According to him, Lafayette was, and still can be, a unifying figure for America.
Icher said, "North Carolina has a lot of rural communities that are very interested (in Lafayette's story), eastern and northern Carolina, and it's a true sense of pride that they display."
Readers can help the movement to memorialize Lafayette by visiting Icher's website, by calling their local state representatives or by volunteering their time. Find out more at www.thelafayettetrail.com.