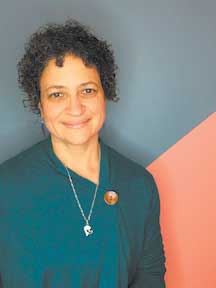 The Friends of the Library present Malinda Maynor Lowery on Sunday, March 24, from 2-4:30 p.m., in the Pate Room of Headquarters Library downtown. She will discuss her latest book, "The Lumbee Indians: An American Struggle."
"The library invited me to give a talk about my newest book, which is about the Lumbee Indians, from a community close (by)," said Lowery, associate professor of history and director of the Center for the Study of the American South at the University of North Carolina at Chapel Hill. "We (Lumbees) have a lot of strong ties to Fayetteville — especially to Cumberland and Hoke counties."
Lowery added the book covers Lumbee history from the time of European contact to the present and addresses how the Lumbees have sustained themselves as a nation within and alongside the American nation.
"The book is for people who are interested in public affairs and current issues, love books, are lifelong learners and have a special interest in Native American or North Carolina history," said Lowery. "I think the library is interested because the book matches their audience, so being invited to give a talk there is a special honor for me."
The Lumbees are the largest tribe east of the Mississippi, and their population makes North Carolina the state with the largest American Indian population. There are about 55,000 enrolled Lumbees. Their homeland is in Robeson County and all the adjoining counties, including Hoke, Cumberland, Bladen and Scotland counties.
"We have a long and proud history of relationships to one another and our identity is founded on our family relationships and our relationships to land," said Lowery. "We have developed schools, churches and farms, and we have participated in and built our own institutions as well as participating in every other kind of American institution."
Lowery writes from a perspective many readers may not be familiar with. "Being a member of the Lumbee tribe gave me a unique access to people and views that have shaped the history," she said. "It's probably fairly unusual to think about reading a native history that is written by a native person.
"Many people assume that my belonging in the tribe would bias me toward a kind of celebratory version of our history, but I think it makes writing the history a lot more complicated because you really have to deal with the bad stuff as much as you deal with the good stuff. I feel responsible, as a member of the community, to tell the whole story.
"My goal of this book was to make an even wider audience aware of how important Lumbees have been to those kinds of moments when we as Americans are really trying to take stock of how we are going to move forward in a more equal way."
Her book will be available for purchase at the event. For more information, call 910-483-7727.
Photo: Malinda Maynor Lowery