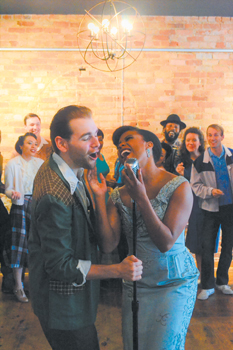 Cape Fear Regional Theatre finishes up its 2018-19 season with a crowd-pleasing production of the hit musical "Memphis," once again bringing amazing music, dance and talent to a local stage. It runs through May 26.
Written by David Bryan and Joe DiPietro, "Memphis" is loosely based on real-life Memphis disc jockey Dewey Phillips, who introduced blues and soul music to a white Southern audience in the 1950s. In the musical, DJ Huey Calhoun wants to share the music he enjoys with a wide audience. Huey is not an activist — he simply doesn't see color lines — a trait that makes this character almost a superhero in 2019.
When Huey, who is white, meets aspiring singer Felicia Farrell, who is black, he makes it his mission to get her song played on the (white) radio station. Huey also wants to get a kiss, which only makes Felicia's overprotective sister, Delray, even more suspicious.
As Huey's popularity continues to rise, he begins to take risks with breaking color barriers, including in his relationship with Felicia, whose singing career is blooming. This leads to angry and violent responses that put both Huey and Felicia in danger.
The story of "Memphis" reminds us that standing up for your beliefs is and always will be important and often requires courage. It is a story of equality, love, acceptance and striving to reach your potential. It is also a story about learning to deal with ignorance, bigotry and hatred. It is a story that, unfortunately, still needs to be told in 2019.
Director Suzanne Agins brings together a cast and crew of local, regional and national talent to deliver a unique and entertaining performance. Some of the cast and crew also worked on Agins' production of last season's "Dreamgirls."
Alongside Broadway's "Hamilton" alum Shonica Gooden (Felicia) and "Memphis" alums David Robbins (Bobby) and Dani Burke (Delray), Agins rounds out the cast with Matthew Mucha (Huey), Kathy Day (Gladys), Gerard M. Williams (Gator) and Bill Saunders (Mr. Simmons).
Gooden and Burke wow the audience with their performances as Felicia and Delray. Gooden delivers vocals and emotion that bring home the story highlighting the effects of racism and inequality. Mucha is heartwarming as Huey. His zany performance is just the right mix of naivete and measured refusal to draw color lines. His indifference to color is really the message of the story of "Memphis."
Gooden, Burke, Robbins and Mucha deliver rousing performances with "Someday," "Colored Woman," "Underground" and "Big Love."
The audience also gets wonderful surprises when Huey's mama, Gladys, deliver the character-awakening songs "Say a Prayer," and "Change Don't Come Easy." Gator, a soft-spoken bartender, and Gladys demonstrate how love and tolerance can help us all learn and grow together, supporting each other despite our differences.
Special mention needs to be made of the "Memphis" ensemble, which includes Ricardo Morgan, Tishmone', Sha'Air Hawkins, Cheleen Sugar, Eliz Camacho, Demetrius Dante' Jackson, Jarrett Bennett, JaRon Davis, Shawntez D'Nadre Bell, Amber Dawn French, Meagan Mackenzie Chieppor, Cherie Kaufman, Randy Cain, Sean Michael Jaenicke, and Ian Shain. You will likely recognize some of them from CFRT productions of "Dreamgirls," "Crowns," "Music City" and "Annie."
The talented ensemble helps make "Memphis" a spectacular show and reminds the audience that we have a treasure trove of local and regional talent. In this show, the ensemble literally brings Memphis radio to life. Their performance also highlights choreographer Ellenore Scott's fun, creative and energetic dance routines.
"Memphis" is a wonderful way to tide theater-goers over until CFRT's 2019-20 season kicks off in September with "Mamma Mia," which will also be directed by Agins.
The musical is rated PG-13 due to some language and violence. Visit www.cfrt.org for tickets and more information.
Photo: Matthew Mucha as Huey Calhoun (left) and Shonica Gooden as Felicia Farrell (right)