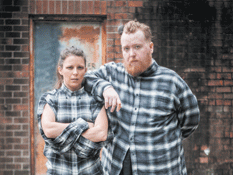 Sweet Tea Shakespeare presents "Richard III" and "The Merry Wives of Windsor" through June 22 and June 23, respectively.
From repeated comparisons to "Game of Thrones" to its "Psycho Killer" theme song to the corpses littering the space in its opening moments, STS' presentation of Shakespeare's "Richard III," which opened June 4 at the Poe House, was an ambitious attempt with a promising beginning that fell a bit flat.
The play depends upon dialogue to move the plot forward and to describe the action, most of which occurs offstage. Dialogue delivery was hampered throughout the evening by intermittent microphone problems and often overwhelming traffic noise from the MLK highway just beyond the tree line. Despite copious program notes, because of the inability to hear the dialogue and the fact that Elizabethan English is an arcane tongue to modern ears, Richard's convoluted machinations to gain the crown of England were often hard to follow. The players gamely carried on.
Standout performances were Evan Bridenstine's rendition of "Psycho Killer," Jen Pommerenke's strutting Buckingham and Jane Moran's commanding performance as Queen Margaret.
The premiere performance of "Merry Wives of Windsor" coincided with some much-needed rain. Undaunted, the plucky troupe cobbled together a play space in the fellowship hall of St. Michael's Catholic Church, and in the best tradition of the theater, the show went on. And what a show it was!
Aaron Alderman was brilliant as Sir John Falstaff, the greedy, lascivious "fat knight" who woos two married women in hopes of gaining access to their husbands' wealth.
Playing Dr. Caius, one of three suitors of young Anne Page, Jen Pommerenke's French accent, reminiscent of the best of Peter Sellers and Emma Thompson, never failed to elicit laughter. Her comic timing, along with that of Alderman, was always spot-on. The spirit of the ensemble was upbeat and merry throughout the entire performance. It was infectious, drawing the audience in and carrying us along on a rollicking adventure that definitely transcended the less-than-stellar play space.
Dena Vassey, costumer for "Richard III," does a lot with a little. She used white-infused and predominantly scarlet plaid shirts to differentiate between Richard's York (white) and Lancaster (red) cohorts. Sana Moulder's costumes for "Merry Wives" were more elaborate but no less inventive as costume changes for several characters were crafted from one basic piece that could be quickly manipulated offstage into an entirely different look.
Jeremy Fiebig and Molly Malone co-directed both shows, with Avis Hatcher-Puzzo also joining as a co-director for "Merry Wives."
This intrepid band of itinerant players deserves both kudos and community support for their dedication to keeping theater at its most accessible alive and well in our midst. They are a multi-talented group. Not only do they have prodigious memories and the ability to master reams of difficult dialogue, they are talented singers, musicians and dancers.
Under the direction of Jacob French, STS pre-show and intermission mini-concerts are always a delight with songs both contemporary and traditional chosen to fit the mood of the play.
Food, nonalcoholic and adult beverages are available during the pre-show concert and again at intermission. The pre-show begins at 6:45 p.m. with showtime at 7:30 p.m. Tickets are available at the door and online with discounts available for students, seniors and members of the military. For show dates and times, visit www.sweetteashakespeare.com. Unless it's raining, be sure to bring your own seating.