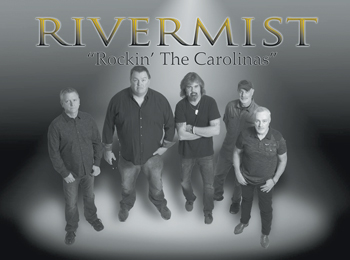 Rock'n on the River, presented by Healy Wholesale Company, Inc., is set for Friday, Aug. 16, at 6 p.m. The music event will take place at 1122 Person St., behind Deep Creek Outfitters.
"Rock'n on the River is Fayetteville's newest free music venue where adults can take kids, be safe, have police protection, have beer and food and listen to free music," said Greg Adair, founder of Rock'n on the River. Adair compared the event to a small-scale Fayetteville After Five, noting that Rock'n on the River is usually on the third Friday of the month.
The August concert features Adair's band, Rivermist, and a Leonard Skynyrd tribute band. "Rivermist is a great group of guys," said Adair. "We have been together since 2014 as a band.
"The direction changed at the end of 2016. We were limiting ourselves to classic rock, and you cannot limit yourself to one genre and succeed there unless you are a tribute band."
Adair added that some of the biggest things that have contributed to Rivermist's success locally are being humble, approachable and kind to people. The band has a Christian background. Its members believe their success and anything they do is a blessing, and they know where it comes from.
"Two of the band members, who are another guy and I, had open-heart surgery years ago, and both of us are walking testimonies," Adair said. "It has been 10 years now, and I feel better now than when I was in my 30s."
"My purpose of the event is to have another family-friendly event that all families can go to that does not cost an arm and a leg," said Adair. "It has been my vision to do this. Plus, it is right by the river, and nobody has really done anything with the Cape Fear River in years."
Adair added that the first Rock'n on the River show hosted approximately 440 people. At the last show, there were 580 people, which keeps it intimate. The audience is not far from the stage and can hear the music easily.
"I want people to come to the event and be relaxed and drawn to it," said Adair. "I want to thank Healy Wholesale. I appreciate their friendship and support because we could not do this without them."
The event is free and open to the public. Food, beer and drinks will be available for purchase. Parking begins at 5 p.m. and costs $5 per car. Coolers and containers are not allowed. Bring chairs, umbrellas and blankets. For more information or to become a sponsor, follow the event on Facebook or email rocknontheriver@gmail.com.