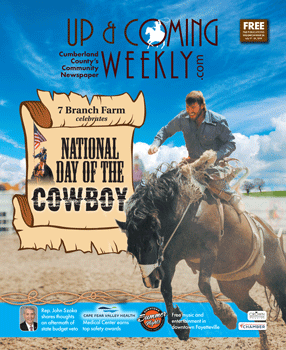 It's been 14 years since the first National Day of the Cowboy. Once a year, on the fourth Saturday of July, cowboys and cowgirls all over the country strap on their boots in memory of the Wild West and the simple yet strong values that came with it. The folks at 7 Branch Farm in Lumber Bridge, North Carolina, celebrate and embody these values, including good stewardship, honesty and hard work, in their everyday lives.
The public is invited to celebrate 7 Branch's sixth annual National Day of the Cowboy on Friday night, July 26, and Saturday night, July 27.
The rodeo includes all the favorite pastimes of the Old West, including cowboy mounted-shooting. This attraction consists of horsemen shooting .45 caliber pistols at targets while riding horses, according to Buddy Blackman, general manager of 7 Branch Farm.
Professional entertainer Cowpaty the Rodeo Clown will be back as will the Carolina Stars Trick Riders. Carolina Stars Leslie Reed and Lori Graham are the original trick riders from the Dixie Stampede, and they've worked with 7 Branch Farm since its first National Day of the Cowboy, according to Blackman.
The duo is trained in adrenaline-spiking stunts: "Trick riders stand on top of (the horses), ride on the side of them, ride them backwards," Blackman said. Perhaps because of Carolina Stars, 7 Branch's National Day of the Cowboy rodeo just keeps growing and growing. "Every year, we have to add more bleachers," Blackman said. For the same reason, he also encourages attendees to arrive early with lawn chairs in hand.
There will be plenty for the kids to do, too, including bounce houses, face painting, free pony rides and a bucking machine, which both kids and adults can ride. Raging Rooster Catering, along with taco trucks and ice cream venders, will provide refreshments. Snow cones, funnel cakes and other concession foods will also be available, Blackman said. In the spirit of family-friendliness, there will be no alcohol at the event.
The fun continues with a few highenergy competitions. According to Blackman, 64 competitors from all along the East Coast will perform in bareback horse riding, saddle bronc riding, bull riding, calf roping, team roping, steer wrestling, cowgirls breakaway roping and barrel racing.
There's a reason this event draws so many competitors to 7 Branch — 14 more this year than last year. "We were the first one in North Carolina," Blackman said, speaking about the rodeo. When the National Day of the Cowboy Organization reached out to 7 Branch to start a North Carolina-based rodeo, the farm stepped up to the plate. To this day, 7 Branch is the only sanctioned venue in North Carolina that hosts National Day of the Cowboy.
National Day of the Cowboy began in 2005 when Wyoming's late U.S. Sen. Craig Thomas sponsored the event as a day to celebrate the contribution of the cowboy and cowgirl to America's heritage and culture. The event has been growing ever since. In fact, North Dakota passed the National Day of the Cowboy bill into law in April of this year, the 14th state to do so since 2005.
A piece of the culture celebrated at this event is the lifestyle exemplified by America's cowboys. The Wild West didn't have a written law for frontiersmen and frontierswomen to live by. In fact, these people took pride in following their own unwritten rules rather than those set by the federal government. Today, cowboys are remembered for the principled way of life outlined in the following Code of Conduct.
The National Day of the Cowboy Code of Conduct for Cowboys & Cowgirls:
1. Live each day with honesty and courage.
2. Take pride in your work. Always do your best.
3. Stay curious. Study hard and learn all you can.
4. Do what has to be done and finish what you start.
5. Be tough, but fair.
6. When you make a promise, keep it.
7. Be clean in thought, word, deed and dress.
8. Practice tolerance and understanding of others.
9. Be willing to stand up for what's right.
10. Be an excellent steward of the land and its animals.
Like the cowboys of the frontier, the people at 7 Branch know something about hard work. Blackman's father, Ron Payne, started the family-run farm 10 years ago with only eight acres. Today, 7 Branch boasts 30-plus acres and hosts several rodeos and training events every year.
The family also gives back to the community. Part of the rodeo's proceeds benefit Cape Fear Valley's Friends of the Cancer Center, which 7 Branch has supported for several years.
Tickets can be purchased online at www.dayofthecowboync.com or at the gate. Tickets are $15 per person, and kids 3 years old and under get in free. Active-duty military receives one free child pass with a paying adult. Gates open at 5 p.m., and the event begins at 8 p.m. on both Friday and Saturday night. 7 Branch Arena is located just outside Hope Mills at 62 McGougan Rd., Lumber Bridge. For more information, call 910-813-7881.