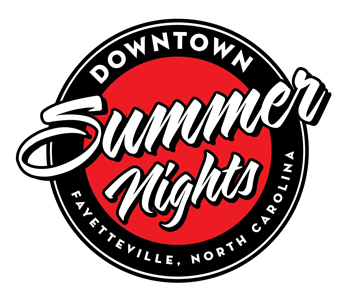 Cumberland Tractor Kubota of Fayetteville presents Downtown Summer Nights Concert Series every Thursday evening through August 22 in the Cool Spring Downtown District from 5:30-9 p.m. on the 100 block of Person Street. Attendees enjoy free live music from 5:30-9 p.m. on the 100 block of Person Street.
"The purpose of the event is the title, which is 'Downtown Summer Nights' in Fayetteville with local and national acts," said Kelly West, promotions and marketing director of Cumulus Broadcasting, LLC. "There is a lot happening in Fayetteville all of the time … you walk around Hay Street, Gillespie Street, Green Street and Person Street and see the culture and how amazing it is."
West explained that whenever there is a large local event, it almost always involves one of those streets. For this reason, the event organizers looked at Person Street and felt it would be the perfect place to have the Downtown Summer Nights Concert Series. That's partly why they created the series — to build even more excitement around something happening downtown.
The event features live music, various food, clothing and business vendors, a beer and wine garden, a kids' activity area and a misting tent known as the chill zone.
The concert series lineup includes Sherman Neckties and Sidewinder, July 18; the Eastline Band and the Breakfast Club, July 25; Lee Jean Jr. and That Nation Band, August 1; Tyrek and Lotus Sun and Sail On, Aug. 8; 80's Unplugged and Earth, Wind & Fire Tribute Band, Aug. 15; and Dead City Symphony and Heartbreaker Aug. 22.
"We would love to see 500-600 people at this event, so bring your kids and your dogs on a leash," said West. "There is no heavy metal or rap music. We will have country/rock, soul, '80s rock and '80s tribute bands.
"We would not be able to do this if it wasn't for our lovely sponsors, who are the Cool Spring Downtown District, Healy Wholesale, Rimtyme, Karma Culture, Dirtbag Ales, Fascinate- U Children's Museum, Sugar's, Isabella Effon, Five Star Entertainment, our radio stations and more," said West. "We invite everyone to come out and enjoy this familyfriendly event on Person Street."
The event is free for all ages and open to the public. For more information, call 509-901-3467.