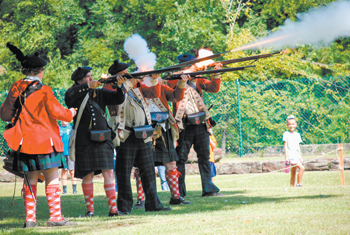 The Museum of the Cape Fear Historical Complex has been educating Cumberland County and the surrounding area since 1988. With a focus on regional history, the complex covers seven acres and is home to a museum, the 1897 Poe House and Arsenal Park. While there are several informational exhibits, the historical complex offers interactive experiences and hosts live events geared to entertain and engage visitors so they can have fun and gain a deeper understanding of a variety of topics while they explore the property.
"The complex is made up of three elements," said Megan Maxwell, the 1897 Poe House coordinator. "The museum is a regional museum with focus on the Cape Fear area. It has two floors of history exhibits from Native Americans to their first contact with Europeans. (Other exhibits include) the Scottish Highlanders, who founded Cross Creek and Campbellton, (which eventually became the city of Fayetteville). It goes to the early 20th century where we discuss Fayetteville. … We also have an old-time general store, which show what a typical store would look like where most people would shop."
The 1897 Poe House offers guided tours every day. Maxwell noted that although it's named after its owner, Edgar Allan Poe, the house belonged to a local businessman, brick factory owner and political activist and not the famed writer. "At the Poe House, people see what life was like for an upper-class family around 1900," said Maxwell. "We do special events here, as well. Sweet Tea Shakespeare just finished their summer (theater) season here. I think they have a Green Tea show coming up, too. Green Tea is their youth division. We host weddings, as well."
The site where Arsenal Park is located used to house an arsenal. The Confederacy used the arsenal during the Civil War to produce rifles, ammunition and gun carriages. Union troops, commanded by Gen. William T. Sherman, destroyed the facility in 1865.
While there is always something to do at the historical complex, the coming months are an exciting time there as well with several events scheduled through the end of the year.
Festival of Yesteryear: Revolution on the Cape Fear
Saturday, Sept. 7, The Museum of the Cape Fear Historical Complex will join with the Lafayette Society to celebrate Fayetteville's namesake, Gen. Marie-Joseph Paul Yves Roch Gilbert du Motier, Marquis de Lafayette. Lafayette was a French aristocrat who fought in the American Revolution and commanded American troops in their fight against the British.
There will be a variety of events and activities on the property from 10 a.m.-5 p.m., with activities for kids and adults alike. The festival is set up to give the public a feel for what things were like in the Cape Fear Region during the Revolutionary War era. There will be re-enactors demonstrating everything from woodworking to militia drills. Enjoy demonstrations and check out the toys, games, music and woodworking practices of the time. There will be musical and artistic performances, military firing demonstrations and hands on-activities for kids.
Don't forget to visit Apprentice Alley, where children can participate and learn a variety of trades through hands on crafts and activities. Take a photo in the pillory, a wooden frame with holes for your head and hands that was a popular punishment in colonial days.
At 10 a.m., the Cross Creek Pipes and Drums and the Highland Dancers will perform. "If you want to see the Pipes and Drums — they are amazing — they come in across the footbridge, and we have the Revolutionary War-era flags flying over the bridge," said Maxwell. "And the Highland Dancers will perform there, too. So to see that, make sure you are there at 10 a.m."
A puppet show is also part of the day's entertainment. Maxwell explained that puppet shows were a big part of entertainment during the Revolutionary War-era. "People would set up in the town square and would do dramatic and comedic shows," she said. "It is interesting to see. A group called Shades of Our Past did a Blackbeard puppet show last year and everyone enjoyed it. This year they are going to do a show themed around Lafayette."
The puppet show is titled "General Lafayette and the Giant of the Revolution" and will take place at 11 a.m. and 3 p.m. Shades of Our Past also offers traditional silhouette drawings for a fee.
Actor Stephen Seals of Colonial Williamsburg in Williamsburg, Virginia,will portray James Armistead Lafayette. James was an enslaved African American who served the Continental Army during the Revolutionary War under the Marquis de Lafayette. Seals will be perform as James Lafayette on the main stage at noon and assist with the Lafayette Birthday Cake Cutting at 1 p.m.
"James was an enslaved spy under Gen. Lafayette," said Maxwell. "He was an African American spy for the Continental Army. He loved (Gen.) Lafayette so much that he took his name."
She added "It is great to have a (historic) interpreter of that caliber coming to share at the event. We are excited to have him. His big stage performance is at noon with a 45-minute monologue and question and answer session."
Crowd favorite April C. Turner of Life as Art Productions returns this year to share her program "African Spirituals: Freedom Prayers."
"Turner comes every year and sings African spirituals," said Maxwell. "She gives us the perspective of what life was like for slaves and how they coped using song and dance. This performance is at 2 p.m.
There will be military demonstrations, including cannon and musket firings, several times during the event.
Visitors can also learn about Native American life during the Colonial period. Other returning favorites include Camp Flintlock and the North Carolina Highland Regiment.
There will be food truck at the event and concessions for purchase as well. The museum will also be open during the festival and the Poe House will offer tours on the hour.
The event is free, but the complex does accept donations.
Oct. 23-25 the organization Partners with Gilbert Theater and do night tours of the Poe House. "It is like historical theater," Maxwell said. "The actors are in the rooms portraying the Poe family. We run groups through every 20 minutes with 15 people per tour." There are 540 tickets. They go on sale Sept 7. The admission is $5.
The complex will host a free trick-or-treat Oct. 26. "We have The Sandbox Band out of Raleigh, and we have Joy the clown, who does tricks," said Maxwell. "We partner with a Jeep club — Nomad Jeeps — and they do a trunk-or-treat. We do a scavenger hunt, too."
Dec. 8 from 1-5 p.m., is The Holiday Jubilee. It is an open house with holiday-themed activities. "It includes a concert, and you can tour the house and look at the decorations," said Maxwell. "We cook on the 1902 stove and also have apple cider. And Santa comes. Parents can take photos of their children with Santa."
Find out more about The Museum of the Cape Fear Historical Complex at https://museumofthecapefear.ncdcr.gov or by calling 910-500-4240.
The Museum of the Cape Fear Historical Complex offers interactive experiences and hosts live events that are both fun and educational.