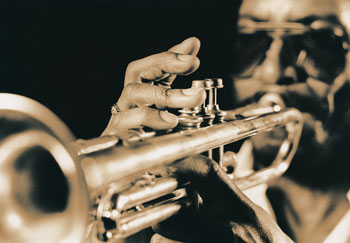 Editor's note: After the publication of this article, the Sandhills Jazz Society announced that, due to circumstances beyond their control, the venue for the All-American City Jazz Festival will be changing to Festival Park, located behind Segra Stadium. The dates and times of the performances and artists performing have not changed.
What could be more All-American than a celebration of America's unique contribution to music in one of America's foremost patriotic cities? Welcome to Fayetteville's first annual All-American City Jazz Festival debuting Oct. 25-27 at Festival Park.


"All That Jazz" is more than a catchy show tune. Dubbed "America's classical music," it is an accurate description of an ever-evolving musical genre that is a many-nuanced wonder. Originating in New Orleans during the late 19th century and subsequently flavored by West African, Caribbean, Latin, Afro-Cuban and European influences, jazz became the multicultural musical stew in America's melting pot. In each decade, from the 1900s on, talented and innovative musicians improvised and expanded the genre, serving up the varied menu we can choose from today. "All That Jazz" encompasses ragtime, blues, Dixieland, swing, bebop, cool jazz, free jazz, hard bop, modal jazz, jazz-rock and jazz fusion.

Great jazz musicians include the famous and forgotten. Among the legends are W.C. Handy, Scott Joplin, Jelly Roll Morton, Louis Armstrong, Duke Ellington, Stan Getz, Charlie Parker, Dizzy Gillespie, Thelonius Monk, John Coltrane, Herbie Hancock and Miles Davis. Among jazz vocalists, Billie Holliday, Ella Fitzgerald, Dinah Washington, Ethel Waters and Louis Armstrong stand out. Carrying on today, we have the likes of Wynton and Branford Marsalis, Diana Krall and crossover artists like Harry Connick, Jr. and Norah Jones.

Here in Fayetteville, the Sandhills Jazz Society might just be incubating the next great jazz innovator. According to its website, SJS "…encompasses a wide spectrum of jazz, blues, world, creative and improvised music including evolving forms of jazz and the technologies and media that influence jazz as an art form." Presented by SJS, the Fayetteville-Cumberland Youth Council, and Cumberland County Tourism Development Authority and supported by a grant from the Fayetteville/Cumberland County Arts Council, the All-American Jazz Festival will be held at Festival Park.

"The Arts Council is pleased to partner with the city of Fayetteville in support of the All-American Jazz Festival," said Greg Weber, Arts Council CEO. "Project Support Grants for 2019-2020 will help fund 26 projects. … These projects help strengthen our communities through festivals and concerts, youth education programs, art exhibitions, workshops and more."

The festival lineup promises something for everyone. Friday, Oct. 25, will be a night of beach and shag music with the Blackwater Band and the Embers, featuring Craig Woolard, performing. Saturday, Oct. 26, jazz stars Willie Bradley, Avery Sunshine, Julian Vaughn, Eric Darius and Brain Culbertson will perform. Sunday, Oct. 27, local high school and college jazz students will honor the legends of jazz by performing some of the standards for which they are noted.

Friday's concert begins at 7 p.m., while the concerts Saturday and Sunday begin at 4 p.m. For more information, including ticket purchases and prices, visit www.sandhillsjazz.com.