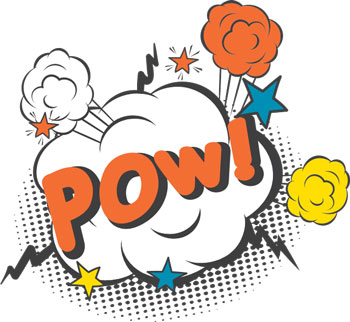 On Oct. 19 and 20, the Crown Complex in Fayetteville will become the center of the geek universe with the Fayetteville Comic Con. Creators Michael Chaudhuri and Keith Gibbs are serious about living up to the theme, "If It's Geek, We Got It!" This will be the fifth year of Fayetteville's Comic Con. It will be a weekend full of all things geek, and all you need to do is show up. Everything from food to collectibles will make this weekend one worth spending at the Fayetteville Comic Con.

UCW: What made you guys decide to do this in Fayetteville?

FCC: We started this five years ago, and it was a one-day event. That first Comic Con, we had 8,500 people. We just knew then that Fayetteville really needed something like this, and we felt like they deserve it.
Plus, for anyone visiting from out of town, we are giving them a reason to stay overnight in Fayetteville. One of our guests, Jack Stauffer — a veteran of TV and musical theater and a star in Battlestar Galactica — will perform an 80-minute cabaret show on the 19th from 9-11 p.m. at the Holiday Inn West Fort Bragg in Fayetteville. People can purchase tickets in advance for that, or at the door.

UCW: For those that maybe don't know, what's the fascination with Comic Con?

FCC: Comic books are the seed to all things pop-culture. They all tie into a graphic representation of an idea, which often led to an illustrated nonfiction book or other written works. And, as we know today, even television shows and movies are based on comic books. In fact, we have a great line-up of sci-fi fantasy writers that come to our show every year that have panels where people can talk to them. There are topics about exploring paranormal fiction, how to write good, believable military fiction. The list goes on.

UCW: What can people look forward to if they're coming to Comic Con this year?

FCC: We have 140 vendors, 80 craftspeople, DJ Clash from Winston Salem, GEEK Speed dating, aerialists and sword fighting. And of course, we will have Cosplay contests and Cosplay lip sync battles. But wait, we also have belly dancing, comedy with Tyler Wood, Game of Throne Tribute Band, tabletop gaming, video games and motion capture demonstrations. Plus, we have numerous panels of different celebrities and writers. And if that's still not enough, we will have live tattooing.

We also have some great guests. For example, if you're a "Star Wars" fan, you'll be glad to know we have Colin Cantwell, who designed the Tie Fighter, x-wing fighter and co-designed the Death Star, here. There's also Eric "Butterbean" Esch, a major icon of boxing during the 1990s, plus wrestling, kickboxing, MMA, and even his own geek style of writing. Plus, any "Harry Potter" fans will remember this name — Gregory Goyle. That's right, Josh Herdman is all grown up and is now an MMA fighter, plus he is in the "Robin Hood" movie that came out last year. Josh is flying in just to attend our Comic Con.

Maybe you're a "Stranger Things" or "Guardians of the Galaxy" fan. Actor John Jacob Anderson, who was in both, will be here to chat with our guests, and he'll be moderating the G.I. Joe panel. If you're interested in voice-over artists, we have them, too. Dameon Clarke is returning for his second time to our Comic Con. You'll recognize Dameon's voice from "Dragon Ball Z" as Cell. He's also been a live actor in shows such as "Supernatural" and "Castle." But he's not our only "Dragon Ball Z" voice-over artist; we also have Stephanie Nadolny, who does the voices of Young Goku and Young Gohan. Plus, she provides the voices for several other well-known animated series. This will be her first year in Fayetteville.

We also have Power Rangers, such as Tracy Lynn Cruz and Michael Copon. Comic book creators, such as Larry Hama, Al Milgrom, Troy Little, Paris Cullins, Gary Cohn, Brian Shearer, Louis Small, Jr., Dan Johnson, Rodney Bennett, Budd Root. We will have a "Walking Dead" reunion with actors William Bell and Gregory French. We have cosplay actors Mick Grimes and Rocky Melvin. And finally, authors such as Chris Kennedy, Alex Rath and Frank Bennett. We literally have something for everyone!

We don't run your usual type of Comic Con. We break that wall that make our guests accessible. Our guests, celebrities included, love to come to our shows so they can interact with the fans. We make a point to not just put everyone behind a table and try to make you buy an autograph or get your picture taken, every one of our guests has at least one panel or curated interview on the main stage.

We will also have raffles and door prizes. In fact, Sunday, we will have a grand raffle. The price is only $15 for one day or $25 for the whole weekend. And next year, we'll be hosting it in April and October. We hope everyone comes out to our fan-run, family-friendly, two-day, comic book and pop-culture based extravaganza.

Find out more at http://www.fayettevillecomiccon.com/.