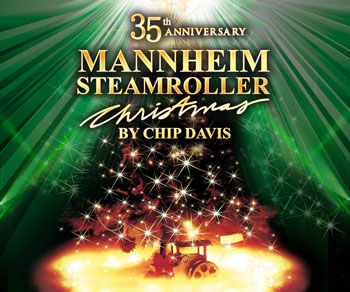 Shoppers strolling through many local retail stores lately can't help but be aware of the Christmas decorations edging out decorations in the traditional colors associated with fall holidays that have yet to make their appearance on the scene. In keeping with our ever-expanding Christmas season, the Crown Theater will host Mannheim Steamroller Nov. 19 at 7:30 p.m. as part of the Community Concert series.

The group's unusual name comes from an 18th-century German musical technique known as "Mannheim roller" or "Mannheim Walze," which was popularized by the Mannheim school of music at that time. The contemporary Mannheim reinvention is considered a neoclassical new-age music group known for blending classical music with elements of jazz and new-age rock. In the beginning, no major record label wanted anything to do with founder Chip Davis and his music. So Davis founded his own music label, "American Gramaphone," another nod to its German roots, being a play on the name of a popular German classical music record label called "Deutsche Grammophon."

Although Mannheim Steamroller has become synonymous here in Fayetteville with Christmas music, the group's early recordings, the "Fresh Aire" series, were an exploration of the four seasons. All four albums consisted of a combination of the baroque classical music, light jazz and rock for which Davis and his musical partner, Jason Berkey, were becoming noted. In 1984, Mannheim Steamroller released its first Christmas album, which took traditional Christmas carols and gave them an interpretation consistent with their earlier work. Despite industry insiders' belief that the album would never sell, it became a hit. It also inspired other mainstream musical artists to record Christmas albums of their own. Most of the Mannheim Steamroller Christmas albums have since gone platinum on the Billboard music charts. Mannheim Steamroller is now celebrating its 35th annual Christmas concert touring season, making it the longest-running consecutive tour in the entertainment industry.

It seems fitting that such a venerable concert tour should be hosted by Fayetteville's oldest art organization. Founded in 1935, Community Concerts is an all-volunteer, nonprofit endeavor. Fulfilling its mission statement to bring "the finest in top-notch entertainment to Fayetteville, N.C. and the Fort Bragg/Cumberland County Community" and to "make Fayetteville better …one concert at a time," CC is currently celebrating its 84th season with the following lineup:
Chicago performed Oct. 15, Mannheim Steamroller takes the stage Nov. 19, Texas Tenors are scheduled for Feb. 14 in 2020, The Four Tops and the Temptations come to town March 6, 2020, and the fifth concert in the series is a mystery yet to be announced.

In addition to the concert series, CC contributes to the overall artistic well-being of our community in many lesser-known, behind-the-scenes ways. CC sponsors the Fayetteville Music Hall of Fame, which honors those musicians who have brought musical distinction to the community, among them the Cumberland Oratorio Singers — recently rebranded as Cumberland Choral Arts — the 82nd Airborne All-American Chorus and many other individuals, performing in both secular venues and local churches. A complete listing of past Hall of Famers can be found on the CC website.

CC awards college music scholarships annually to promising local high school graduates. This year's scholarship recipient is David Song, a graduate of Douglas Byrd High School who will be attending UNC-Greensboro, where he plans to major in music education. Past scholarship recipients are also listed on the website.

Additionally, CC is the creative force behind the Local Artist Showcase, which gives talented local performers a chance to take the stage as opening numbers for the nationally renowned musical artists that CC brings to town. Recently, Voices of the Heart opened for Gladys Knight, children from the Linda Kinlaw School of Dance performed with Martina McBride and local country music artist, Trae Edwards, opened for Ricky Skaggs.

CC provides free concert opportunities for children, seniors, members of local fire and police departments, members of the military, local high school theater arts classes, and other deserving non-profit community groups.

CC enjoys widespread financial support from the community with sponsors ranging from categories such as master of ceremonies, executive producers, producers, concertmasters, benefactors, sponsors and patrons. A full list of these financial assistance opportunities can be found on the website, along with the amount of the financial pledge needed for each category. The Arts Council of Fayetteville/Cumberland is also a major contributor.

Season tickets are now available for this 84th season concert series. There are ticket prices and options available for all budgets and those needing special seating. For season ticket purchasing information, contact Becky Spell at 910-303-3513. To view prices for various seating levels and sponsorships, see the CC website at www.community-concerts.com. Tickets for individual shows may be purchased in person from the Crown box office or online at www.CapeFearTix.com. Parking at the Crown Theater is free, and ample space is available.