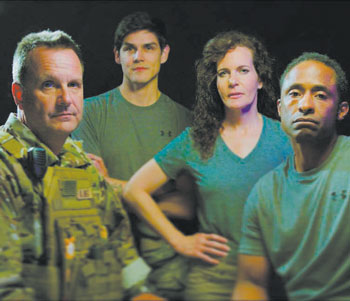 For anyone who serves in any branch of the military, their job is a major part of their life; and when service members go overseas, they come back with experiences and stories they need to share, both good and bad, for the sake of their well-being. "Last Out: Elegy of a Green Beret," which will be at the Crown Complex Dec. 7 and 8, will portray some of those experiences in a way never before seen in any production.

For Scott Mann, a veteran, professional speaker and storyteller who was stationed at Fort Bragg, acting and voice classes were ways for him to become more effective on stage. After a coach recommended he write a one-person show about something from the war, he wrote a short script. "My coach said, 'You know what? That's a play. You should think about that,'"said Mann. Eventually the idea evolved into a full-length play —"Last Out: Elegy of a Green Beret," which three years later, made its way to the stage.

Although storytelling is used in other societies worldwide to help soldiers transition from war to home, that isn't the case in America. "My transition was very dark," said Mann. "And it was through storytelling that I healed myself. We don't teach it ... We're about the only society on the planet that doesn't. I want storytelling to be at the epicenter of this play."

Director Ame Livingston agrees. "We don't hear from our veterans in our country. When they come back, they aren't encouraged by our country to story tell … (The play) is a beautiful story of the whole family's sacrifices. It's all told through love."

Mann's intention with the play was twofold. He wants the audience to feel the impact of modern war, regardless of how they feel about the war itself, and he hopes the story will shed light on the war to help people make more informed decisions in the future.

"I really wanted to validate the journey of those who fought and those who stayed home and endured it," Mann explained. "We really needed a strong connection to the military to give that visceral, emotional feeling — you know, just take all the armor off and just put it out on the stage in a really raw way."

The story is authentic because while it isn't all autobiographical, it is all based on true stories. Everyone in the cast and crew has ties to the military. "Last Out" has a cast of four people. Mann is a retired Lieutenant Colonel. Leonard Bruce, a former Green Beret, has been a veteran for over 22 years from the U.S. Army. Bryan Bachman served in the U.S. Army for roughly eight years and spent most of his time at Fort Bragg, as he was assigned to the 82nd Airborne Division. Livingston, who has a role in the play in addition to directing, comes from a family with a rich military history.

Kari Ellis, the tour manager, worked as a forensic video specialist for the Fayetteville Police Department and retired last year in April. Her husband served 22 years in the U.S. Air Force. "He went overseas and never came back my husband," Ellis explained. After having a stroke that stole his voice, her husband committed suicide at the end of 2017. After experiencing such an intense trauma, Ellis left Fayetteville and moved to Florida, where Mann urged her to be the tour manager. She is best friends with Mann's wife. "It's not in my wheelhouse, but the more I did, the more I felt I had purpose," Ellis said.

With 2019 coming to a close, Bachman pointed out how long it has been since 9/11. "We're handing off this war to our children that we didn't finish," he explained. "Right now, in Afghanistan there are men and women who weren't alive when the towers fell. And that's hard to just wrap your head around sometimes," he explained.
Although the plot depicts military life, Bachman estimates that 75% of the audiences tend to be civilians. "The story is universal. It's so personal and authentic," he said.
Based on the population of the United States, 8 million people have post traumatic stress every year, according to the National Center for PTSD. Service members often times face numerous stressors that can lead to post traumatic stress.
As many people know, especially in a community with such a strong military presence, the hardships of war don't just affect the people serving but their families and friends as well. The production pays tribute to those people and allows them to share their stories through one of their props, the Wall of Honor.

When Mann was serving, he built a wall with a set of shelves in his home. When he returned from the war, he would bring his family trinkets and souvenirs and put them on the shelves as a way to stay connected with his children. The Wall of Honor is featured in the play. Since the play began touring, it has become a trend that gold star families and loved ones of those who served and veterans have given their own trinkets, like dog tags and pictures, for instance, to be used for the wall. "We put that on the wall with reverence," said Mann. "It's grown into this beautiful museum of service and love."

One thing that stands out to Bruce is how accurately and thoroughly the play showcases a variety of relationships. "You see what people cope with when you're gone, but then you see the relationships you build with people who are completely different — completely different cultures," he said. "It's another great part of the play that resonates with me. Relationships with people that you would not have relationships with otherwise. That stands out to me. It breaks down stereotypes that people might currently have of people they don't know. Their lives and what everyone wants are very similar across cultures… This play shows those things in a different way."

Although war and the sacrifice that comes with it is always difficult, "Last Out" offers hope, not only by affirming the stories of service members and their families on stage but by helping its very own audience in the healing process. "Last Out" travels with a licensed psychologist, Diego Hernandez, so that if anyone needs help with their post-traumatic stress, he can treat them in the lobby. "The big thing that we wanted to do is not just admire the problem," Bachman said.

"Last Out: Elegy of a Green Beret" will be at the Crown Complex Dec. 7 at 2 p.m. and 8 p.m. and on Dec. 8 at 2 p.m. Tickets are $35. Visit http://www.lastoutplay.com/ for more information and to buy tickets.

Pictured 1, L-R: Scott Mann, Bryan Bachman, Ame Livingston, Lenny Bruce.
Picture 2: The Wall of Honor is prominently displayed as a "museum of service and love."