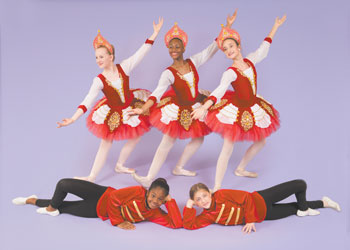 It's been 50 years since the North Carolina State Ballet graced the stage to perform "The Nutcracker." Under the direction of Charlotte Blume, the production flourished. Blume died in 2015, but her passion project continues to pull in crowds — both for auditions and at the box office. This year's public performances are set for Dec. 14 and 15, in addition to the shows performed exclusively for school students.

Dina Lewis has been at the helm since Blume's death, and she's worked hard to ensure Blume's memory lives on and that her contributions to the community and to her students are acknowledged. "About midway through a rehearsal, I asked how many people had studied under Charlotte Blume. It was 10," Lewis said. "There are 10 of her students remaining that had her — and three are seniors. She is still such a legend in the studio, though. The younger girls are like, 'You knew her?' And the older girls will tell them about her. She is definitely still there."

"She is still a big part of the production — this year more than ever," Lewis said. "When people walk into the show, they will see pictures of her flanking the doors. When Charlotte was alive, she was an artist in every sense of the word. She would draw the posters and have them printed. She would draw out the T-shirt designs; they were all hers. … A few weeks ago, when I was going through a stack of papers, it was labeled "art." It was all her old T-shirt designs. We brought the tradition back this year as a surprise to the girls using a couple of Ms. Blume's original designs. We found her signature, and it will be on the back of the shirts this year."

While Blume was known for her passion for her dancers, she was also known for demanding excellence and commitment from her students. "She had a way of pulling the excellence out of the children," said Lewis. "She knew what they were capable of, and she would push them to be their best and do their best. She would say that no one is ever perfect in dance. There is always something to work on."

While there have been many surprises and lots of hard work in carrying on Blume's commitment to 'The Nutcracker,' Lewis said there have been some moving and
wonderful surprises, too. In addition to the stack of hand-drawn original T-shirt artwork, Lewis has come across hand-drawn posters that Blume designed for previous "Nutcracker" productions. And there was also the original paperwork that The Charlotte Blume School of Dance signed with the N.C. State Ballet when Blume's students first performed the ballet. "I found her original paperwork from the ballet company," said Lewis. "All these years we have had the numbers wrong. All this time, we didn't know how long this has been going. When I found it, I called her son to confirm it. I also reached out to the Crown, and we are the longest performing production at the Crown Theatre — it is us!"

This year, the audience can expect some fun changes. "We have done a lot of new things," Lewis said. "There are new backdrops, and almost the entire first act — except one group — is all brand new costumes. I wanted to put the statement out there how proud were are of the anniversary and producing the show for this many years."

There are some big changes in the Russian scene in the second act as well. "The Russian tutus were created for us by Phillip Martin-Nelsen, principal dancer of the all-male pointe group "Les Ballets Trockadero de Monet Carlo" of New York," Lewis said. "We were very honored when he agreed to create and make them for us. … He does a lot of their costumes. We FaceTimed him and he had a sketch back to us in just a few minutes."

This year, Ella Lewis is Sugar Plum, dancing with Adam Chavis. Nick Fokine is ballet royalty — his great-grandparents Michael and Vera Fokine choreographed 'Giselle.' He helped at some of our rehearsals. He also performs with Carolina ballet. He helped us a lot. We are excited to put that on stage."

Lewis mentioned some other fun changes, too. "We just don't have ballerinas on stage for the Russian stint. There will be some gymnastics on stage, too. I think the audience will love it. And for Snow … we have a Snow King and a Snow Queen. That is also new this year."

It takes 11 months to produce "The Nutcracker." The planning starts shortly after the holidays. Rehearsals start in April and, except for two weeks in July, run right up to the performances. It's hard work. It's a lot of dedication. It's exhausting, but so worth it, Lewis said. It brings something special to the community and the performers are passionate about it. "This year we have a cast of 86. … As people came in, we saw the line for auditions was wrapped all the way around the fire station. It is really cool. I thought wow, if Charlotte could have been here to see this."

North Carolina State Ballet's "The Nutcracker" will be at the Crown Dec. 14 and 15 with performances at 3 p.m. Tickets cost between $10 and $25. Children 5 and under are free. Visit http://www.crowncomplexnc.com for tickets and information.