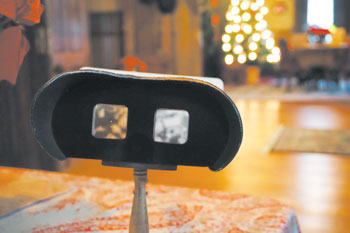 One landmark that offers a glimpse into Fayetteville's past year-round is the Museum of the Cape Fear Historical Complex's 1897 Poe House. In December, the house is decked out in holiday decor of yesteryear for the "Poe House in Christmas Splendor."

In the deed for the home, the house belonged to Josephine Montague Poe, who then married Edgar Allan Poe, not to be mistaken with the famous American author. E.A. Poe was a prominent and affluent businessman in Fayetteville. He owned a brickmaking facility. He also served as a county commissioner in 1904 and on the Board of Aldermen in 1921. The couple had eight children together.

"What people see when they visit the Poe House is what life was like for an upper class family at the turn of the 20th century," said Megan Maxwell, the curator for the exhibit. With respect for historical accuracy and through careful recreations, Maxwell said that the home offers a glimpse into the past.

The seasonal decor isn't necessarily what would have been found in a home on a day-to-day basis during the holidays, but more of what you might expect to find in a home decorated for a Christmas party.


From evergreen garlands to beautiful red bows to trees covered in festive ornaments, the house looks like something out of a Thomas Kinkaide painting. "We use a lot of greenery — a lot of pine, magnolia and holly, " Maxwell said. "We have two Christmas trees. The tree in the parlor is the formal tree."

Follow the staircase to the second floor and find the second tree, a scrap tree, so referred to because the ornaments are handmade from scraps, like magazine clippings, for instance.

Aside from the lovely Christmas decorations, visitors can see vintage items for every day living throughout the home, from toys to clothes to kitchen appliances.

"We encourage visitors to take pictures and post them on Instagram or Facebook," said Maxwell. The parlor, in particular, is a beautiful place to take pictures, but they are welcomed throughout the home. Visitors are also encouraged to tag the museum on social media.

The Christmas decorations will be up through Jan. 5, and the house will be closed for Christmas Eve, Christmas Day and New Years Day.

The tours of the Poe House run Tuesday through Friday at 11 a.m., 1 p.m. and 3 p.m.; Saturdays on the hour from 10 a.m.-4 p.m.; and on Sundays from 1-4 p.m. The tours are free, but the Museum accepts donations. Visitors can also tour the Museum at their leisure, as well as Arsenal Park, from 10 a.m-5 p.m. on Tuesday-Friday or on Sunday from 1-5 p.m.