Ryan's Reindeer Run is a longstanding tradition in Fayetteville. It celebrates the life of Ryan Patrick Kishbaugh, who died in 2003 from complications of a bone marrow transplant after a 15-month battle with Hodgkin's Lymphoma. The run celebrates Ryan and his passion for life and his love of sports while bringing people together to share a unique and uplifting experience. Ryan's mom, Roberta Humphries, started the run in Ryan's honor. This year, it takes place Saturday, Dec. 21 at Cape Fear River Trail's Jordan Soccer Complex. The 14th Annual Ryan's Reindeer 5K Fun Run/Walk is family-friendly and is open to walkers and runners. Bring your favorite people and log a few steps together celebrating life and good health.

Long-time participants will notice a few changes this year, but many of the traditions that make this run so unique are still a part of the event. There are two new organizations involved in hosting the event, although Ryan's mom is still very much a part of the run.

The Fayetteville Running Club and Fayetteville Area Tri Warriors have come together to host the event. "FRC is a registered nonprofit, and we use our love for running to give back to our community," said David Wilkes, FRC president. "We do that through proceeds from our Annual Firecracker 4 Miler race on July 4. We have 15 different meetups a week to choose from, and you do not have to be a 'professional' to run with us. We have great socials and expert guest speakers at our monthly meetings."

Shelly Los is the vice president of The Fayetteville Area Tri Warriors. The Fayetteville Area Tri Warriors is a group of triathletes dedicated to the sports of swimming, biking and running. "Our
athletes range from the beginner to the Ironman, teenager to senior citizen," said Los. "We encourage people of all fitness levels and interests to branch out and push their limits. Our meetings and club events include swim, bike maintenance, transition and running clinics as well as group workouts with social get-togethers afterwards. Each year, our club organizes the Little Warriors Triathlon, a local triathlon for children ages 6-14. … We love to meet new people and welcome them to our community."

Wilkes sees this run as a good fit for FRC because, "First, this race supports the Child Advocacy Center. We are all about supporting local nonprofits. Our members put in thousands of volunteer hours supporting many local events … and second, this race has been a longstanding tradition because of the cause and because it is one of the most fun runs in town. … We want everyone to know that even though Roberta Humphries is allowing us to present this run, this is still Ryan's Reindeer Run, and it is still Roberta's event."

Los agreed, adding that it is a good fit for the Fayetteville Area Tri Warriors, too, saying, "The Tri Warriors have developed profound respect for Roberta Humphries and her team at the Child Advocacy Center, so we view this fun run as one more opportunity to serve our community. For me, Ryan's Reindeer Run has become a Fayetteville Christmas tradition right alongside setting out milk and cookies for Santa Claus. Families with children of all ages come out to enjoy the costumes, camaraderie and Christmas spirit — all the while supporting a wonderful local charity. Plus, it allows you to bank some calories for holiday feasting!"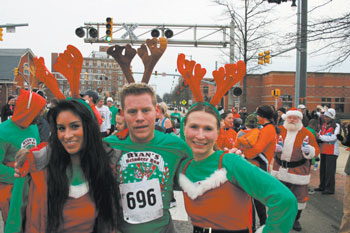 What's new

There are a few changes this year, starting with the route and making it an untimed run. This year's route unfolds on the scenic Cape Fear River trail. "This is the first year that FRC and Fayetteville Tri Warriors have presented this run, and it is our intention to help Roberta to continue having this run for many more years," said Wilkes. "Next year, we look forward to moving this route back to its original route and making it a timed race again. This year, we just want to keep the fun in this 14th annual fun run."

Registration is 50% off this year, at $15, although next year the event organizers intend to return the registration price to full cost. Registration for the first 250 participants includes an exclusive Ryan's Reindeer Run bomber hat, as well. Regular long-sleeved shirts are also available.

This year's proceeds will go to The Child Advocacy Center in memory of Ryan Kishbaugh.

What's staying the same


One favorite aspect of the race for many long-time participants is the costumes. It brings a sense of lightheartedness to an already lively and entertaining morning. "We are definitely encouraging everyone to bring on the costumes," Wilkes said. "This year, our main goal was to keep this race fun. We very much appreciate the support we have gotten from the regular sponsors, volunteers and the running community. … Our clubs know how to put on a fun and well-organized event, and this year you will … have a great time."

Santa will be there. Come and enjoy a cup of hot chocolate. There will be door prizes, too.

Work groups and teams are welcome.

Wilkes and Los are excited to be a part of the event. "I will leave with the words of Ryan Kishbaugh," said Wilkes. "'So do a favor for me and whatever you're doing today, just go out and RUN, somewhere, anywhere, just RUN because you can – RPK.' — written three days after receiving his bone marrow transplant."

Registration

Register at https://runsignup.com/Race/NC/Fayetteville/RyansReindeerFunRun5K online. Online registration closes Dec. 20. On-Site registration will be available Friday, Dec. 20 from 5:30-7:30 p.m. at Fairfield Inn and Suites, 4249 Ramsey Street. Call 910-223-7867 for more details. Same-day registration takes place Saturday, Dec. 21, from 7-7:45 a.m. at Cape Fear River Trail - Jordan Soccer Complex, 445 Treetop Drive.

The race starts at 8 a.m. Visit http://www.ryansreindeerrun.com/ to find out more.