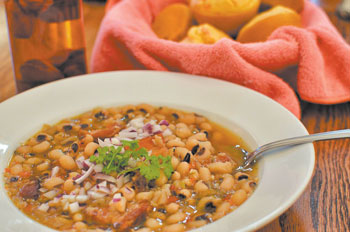 The annual Black-eyed Pea Dinner is a decades-old Fayetteville tradition, drawing hundreds of attendees each year. For many, it would not feel like the start of the new year without this event. Register of Deeds Lee Warren hosts it. It is on New Year's Day from 11 a.m.-2 p.m at the Charlie Rose Agri-Expo Center in the auditorium.

This event started in the 70s. It was led by Sheriff Otis Jones and local attorney Willis Brown. After Jones died in the late 80s, the event stopped happening. Then when Warren was elected to be the County Commissioner in 1992, he and his friend Owen Spears, who was elected to the North Carolina House of Representatives, worked hard to make sure the New Year's Dinner took place again.

Then the district attorney, Grannis partnered with Warren to host the event. Grannis died, but the Grannis family continue to work with Warren on the dinner. Billy West, who is now the district attorney, also helps with the event. West has been working with the event for around 20 years.

"Years ago, there used to be events like this from time to time," said Warren. "There aren't many events like this that are open to the public. I'm not sure if there are many events left like this anymore."
The menu consists of black-eyed peas, collard greens, barbecue, candied yams, dinner rolls, tea and coffee.

"When you are preparing an event that you don't send invitations to, you run an ad in the newspaper, and you invite in essence anybody who reads the paper with this," said Warren. "Everybody is invited. So, we never know exactly how many people are coming. There could be several thousand people coming. We start several months ahead in preparing for the dinner, ordering food and lining up all the help, everything it takes to put on an event like that."

Warren continued, "We prepare so that we don't run out of food. We prepare a little extra because every year, whatever we have leftover, we donate to the My Rover Reis Home to help the people that they house there."

For entertainment, Larry Chasten, a gospel singer, performs. When asked about his favorite part of the event, Lee Warren said it is "seeing people that come every year, renewing old friendships and making new ones. That is the best part about it. It is just a good time to renew old friendships and to say hello."

Another priority for the day of the dinner is making sure everybody has a good time and gets fed. "I don't think we have ever completely run out of food any year that we have done it, so our goal is to not do that," Warren said.