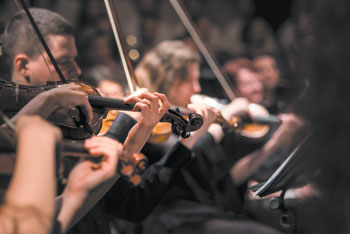 From 1600 to 1750, the Baroque period challenged artistic expectations in Europe. Meaning "oddly shaped pearl," barroco is characterized by contrasting melodies, harmony and multiple instrument sounds. This style didn't become popular overnight. In fact, critics of the period described Baroque compositions as overly complicated and elaborate. However, fans of Bach, Vivaldi, Purcell and other masterminds of the era would disagree. The Fayetteville Symphony Orchestra will play tribute to these artists with a Baroque performance, Jan. 16, at St. John's Episcopal Church.

The concert will provide an educational glimpse into 17th- and 18th-century Europe. In fact, Executive Director Jesse Hughes chose to showcase works from this era "to give the community and audience exposure to famous (composers) of the Baroque period," particularly Johann Sebastian Bach. "He was like the musical example — the model — the one that's paid a lot of homage to by the previous composers," Hughes said about the German composer. "He is looked at as being the forerunner of the Baroque style."

Baroque music also offers quite a variety to the listener, Hughes said. Although the Baroque movement took place in Europe, styles varied between countries, particularly France, Germany, England and Italy. Such variety will be represented at FSO's concert.

"Expect to be entertained through the musical versatility and flexibility of the musicians," Hughes said. "For example, Adagio in G Minor for Strings and Organ, where you normally see it on piano, you'll see on a church organ."

Hughes explained that FSO will perform as a chamber orchestra, a more intimate format, since Baroque compositions were traditionally performed this way. "The chamber orchestra can be 50 players or less, and normally instead of having multiple instruments on a part it can be one to two instruments on a part," said Hughes.

St. John's intimate setting combined with the smaller orchestra will allow for more interaction between performers and audience, according to Hughes. Instead of performing onstage, the orchestra will be on ground level; the performers will also enter the same doors that the patrons enter, so the audience will likely be able to meet orchestra members after the concert.

During the remainder of the season, FSO will perform "Music She Wrote," a concert that celebrates female composers with works written exclusively by women on Feb. 8. On March 7, FSO will highlight pieces by Brahms, Wagner, Bizet and Berlioz during "In Their Footsteps." April 4, FSO will perform Bohemian masterpieces, including Dvorak's Cello Concerto, in "Musical Folktales." The Music Nerd will appear at 6:45 p.m. before each concert to hold a question and answer session with the audience.

Fayetteville Symphony Orchestra's "If It Ain't Baroque" will take place at 302 Green St., Thursday, Jan. 16, at 7:30 p.m.

To learn more or to purchase tickets, visit https://squareup.com/store/fayetteville-symphony-orchestra/item/if-it-ain-t-baroque.