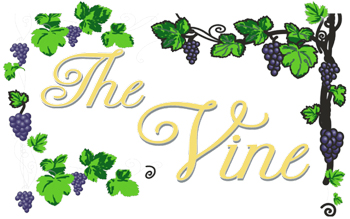 Lovers in and around Fayetteville can give Cupid the weekend off this Valentine's Day. Choices abound for a fun experience with your special someone with options that include fine dining, concerts, theater performances, Vegas-style casino events and more.

The Vine Enjoy an upscale Valentine's Day listening to live jazz music by Fayetteville's own Reggie Codrington while savoring a sumptuous meal at
The Vine.

The Vine co-owner Brad McLawhorn said the event is designed to be a step above dinner out at a restaurant. "We wanted to create an event that will make people feel special. We are taking reservations, and we can fit up three couples at a table. We want to give everyone an opportunity to get away from the hustle and bustle. They can come and enjoy a plated dinner where everything will be served to them. It is a personalized experience with live music by Reggie Codrington to provide ambience."
The menu includes filet mignon, salmon or chicken entrees as well as a vegetarian option.

"We wanted to make sure everyone has something on the menu that will appeal to them," said McLawhorn.

There will be several different side options, including a baked potato or honey cinnamon sweet potato or cayenne roasted red potatoes or cilantro lime rice along with multiple vegetables to choose from. Dessert options include New York-style cheesecake with a raspberry drizzle or a chocolate lava cake. McLawhorn also hinted that there will be a special surprise for the ladies who attend as well.

Reservations are available in 30-minute increment, starting at 5 p.m. Tickets cost between $75 and $225. The expanded menu for this event accommodates dietary restrictions and includes vegetarian options. Find out more at https://www.thevinenc.com/ or twobrotherscateringnc.com or by calling 910-584-9892.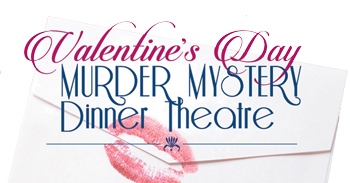 The Crown Coliseum Complex has several events scheduled for Valentine's Day weekend. Set for Friday, Feb. 14, the Valentine's Day Murder Mystery Dinner Theatre serves up an evening of suspense, mystery and murder alongside a gourmet meal.

"We are so excited for this event," said Carolyn Swait, director of sales at the Crown Complex. "This is the first time ever the Crown has produced something of this magnitude ... We want the community to not think of it as another dinner theater but to have a different experience from the minute they walk through the door. We have given this a lot of thought and have carefully considered everything that is going into this."

Produced, written and directed by Dr. Gail Morfesis, "Love Letters … Sleight of Hand" features Sylvester "Sly" Fox, master of ceremonies and husband of Francine Maximillian, artistic consultant and original owner of "It's all about You" booking agency. He came to Francine as an actor seeking jobs but has attempted to take over the business. He also has taken on several unscrupulous loans of which Francine is unaware. Francine is concerned about her husband's attention toward her younger protéges.

This interactive whodunit invites attendees to solve the mystery while enjoying a cocktail hour with hors d' oeuvres and an open bar followed by a three-course dinner and dessert. Vegetarian options are available upon request. The murder mystery dinner starts at 6 p.m. Visit http://www.crowncomplexnc.com/ for tickets and information.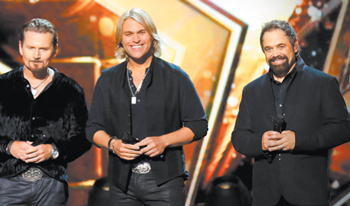 Community Concerts presents the third performance in its five-show season this year with The Texas Tenors Friday, Feb. 14. The Texas Tenors take the stage at the Crown Theatre at 7:30 p.m. for a night of amazing music as the trio celebrate 10 years together. The group was honored earlier this year as one of the top 50 acts in the world. They were the only vocal group from the United States invited to compete on NBC's primetime series "America's Got Talent: The Champions."

For tickets and information, visit http://www.community-concerts.com/.


Wine and chocolate are a classic combination when it comes to romance. Saturday, Feb. 15 at 1 p.m. and 6 p.m., Carolina Uncork'd Wine & Chocolate Festival welcomes the public to taste selections from regional wineries and chocolatiers as well as spirits and craft beers and more at the Crown. There will be more than 100 of Carolina's premier wineries, breweries, distilleries, cideries, restaurants, cheese makers, bakers, and chocolatiers in attendance.

From selfie photo booths not yet seen in the Sandhills to life-sized games like Connect Four and beer pong, the event is the perfect place for a unique Valentine's Day experience. "We'll have the sweet spot, which offers different sweets and chocolate to taste throughout the day," said Swait. "We're adding a man cave and beer garden. We want to make it enticing for men. Valentine's Day is centered around women. We thought this would entice women to bring their guys. There will be beer, whiskey, cognac, life-sized games and more. The Ladies Cove will feature a martini bar with a huge ice-sculpture martini glass with cosmos coming through it. There will be chocolate martinis and other specialized cocktails for the event, as well. Several of our sponsors are customizing cocktails as well. There will be games on the stage along with demonstrations, prizes and giveaways. We have so many fun surprises people are going to really enjoy."

The VIP experience includes one-hour early entry to a session; a premium swag bag; limitless samples of wine, craft beers, spirits, ciders and more; sampling of gourmet fondue bar chocolatiers and the region's savory food bites; early vendor shopping experience; exclusive door prize giveaways.

Attendees must be 21 or over. Tickets cost $15 for designated drivers/nondrinkers, $35 for regular tickets and $50 for VIP tickets. There is a military discount of $5. For information and tickets, call 910-438- 4100.



"Shrek: The Musical" is a fairytale musical for the young and the young at heart. In this production, the unlikely hero, Shrek, embarks on a life-changing journey. He is accompanied by Donkey as he takes on the task of rescuing a fiercely independent princess Fiona — who has a big secret. With themes of self-acceptance, trusting others and loving yourself for who you truly are woven into the story — and the songs, too — A night at CFRT's "Shrek: The Musical" is a lovely way to spend a whimsical evening (or afternoon) with your special Valentine.

The show runs through Feb. 16. Show times are 7:30 p.m. Thursday through Sunday evenings with matinees at 2 p.m. Saturday and Sunday. Visit http://www.cfrt.org/ for tickets and information.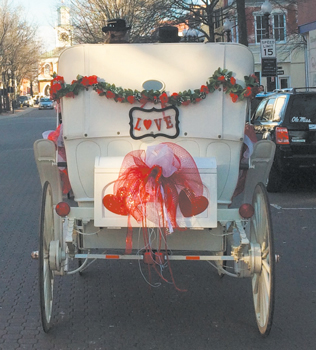 Take your sweetie on a Valentine's Day carriage ride through downtown Fayetteville, Friday, Feb. 14 from 5-10 p.m. and Saturday, Feb. 15, from 1-9pm. Rides last about 20 minutes each. Tickets for group rides are $15 per person or $10 for children under 10. Private rides for a truly romantic experience are also available for $60 per couple. Tickets may be charged over the phone at 910-223-1089 or booked online at www.visitdowntownfayetteville.com.