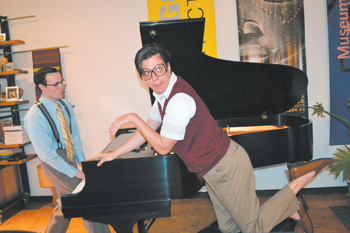 There is nothing I like better than a good mystery. A "whodunit" novel, a thrilling Lifetime TV movie, a Hallmark movie mystery, or an Angela Lansbury "Murder She Wrote" storyline will tantalize most anyone's taste buds. And who doesn't love to laugh and have fun along my life's way? "Murder for Two," an off-Broadway hit, has come to Cape Fear Regional Theatre, March 5-22. This play offers everything to everyone. Music, mystery, laughter and fun are just a few of the things awaiting audiences. There will also be a surprise or two, promising to enhance your theater experience. Previewed in New York in 2013 and later in Houston, Texas, this music and mystery collaboration was authored by Joe Kinosian who wrote the book and music and Kellen Blair who wrote the book and lyrics.

Usually, the characteristics of any good mystery include "who," "what," "when" and "where" to create the storyline. The New York and Houston productions are important to note because they brought together two incredible musicians and actors by the name of Trace Pool and Ben Miller — the who of our production. Recently, I had the pleasure of meeting these polished and experienced actors who are handsome, delightful, yet unassuming as they describe the challenging roles they will soon recreate onstage at CFRT. Pool and Miller take their roles seriously and see them as an empowering way to stretch their creativity.

However, Pool balances his role well when he describes it as "zany acting while playing other crazy antics at the same time."

Miler balances his thoughts about his role in much the same way while looking at it as "an Agatha Christie meets the Marx Brothers spoof."

One of these guys will play the investigator and one plays the other 13 roles. Both will play the piano while acting as well.

New Yorker Laura Josepher, the director, is the "what" of this rib-tickling musical mystery and has the experience, fun and flexible personality that will blend together the actors' talents, the storyline, the music, the staging and the set costuming that it will take to orchestrate and present this new and innovative style of theater to Fayetteville.
This 90 minutes of fast-paced comedy is designed to put a smile on the face of all those who attend. The When of "Murder for Two" runs March 5-22, with special events March 5, Wine & Beer Tasting; March 6, Clue Night; March 7, Opening Night Reception; and March 12, Dueling Pianos, with all times from 6:45 – 7:15 p.m.
The "where" of this madcap adventure will be the Cape Fear Regional Theatre, 1209 Hay Street, Fayetteville.