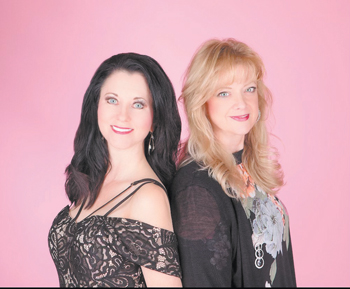 Due to the spread of COVID-19, as a precaution, The Carolina Spring Show has been cancelled.
Spring arrives early in Fayetteville with the advent of The Carolina Spring Show and Miss Carolina Spring pageant March 14 from 10 a.m.-6 p.m. at the Crown Ballroom. The budding event brings shopping, entertainment, food, fun, prizes and pageantry to chase the doldrums of winter away.

Women's View Magazine, The Fayetteville Observer and Dream Girl Events proudly present the inaugural expo created by event co-owners and Fayetteville businesswomen Marie Rudolph and Donna Meixsell. Friends for over 20 years, the pair founded Dream Girl Events LLC in August 2019 to express their shared vision for the celebration, empowerment, personal growth and development of and for women.

The third in a series of events from the company this year, The Carolina Spring Show and Miss Carolina Spring pageant, is their hallmark happening and promises, according to Meixsell, "good, clean family fun and an event to make Fayetteville proud."

Meixsell shared her goals for what she and Rudolph hope will become an annual occurrence.

"We're inviting the best of Fayetteville and bringing the best to Fayetteville, all in one convenient location for a fabulous day of shopping with a variety of vendors for both men and women. The pageant will be going on throughout the day with onstage entertainment in between competitions for everyone's viewing enjoyment. We encourage all to come out to support the community, local businesses and our young pageant contestants in what is shaping up as a phenomenal spring experience."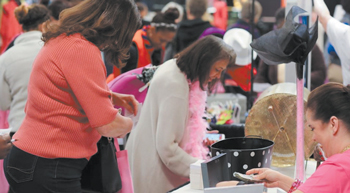 The Carolina Spring Show has a great line-up of retail vendors, with the list growing daily.

Attendees can visit booths for wine tasting, clothing, jewelry, makeup, skincare, home decor, custom gifts, photography, designer jewelry, crafts and more.

Pageant purveyors will be on-site, featuring dresses, shoes and custom pageant apparel as well as bridal and formal attire. To bring on the bling, visit the custom costume jewelry booth of MHR Designs of Fayetteville, owned by Rudolph for the last 28 years. Uniquely hand designed with crystals from Swarovski® Crystal America, MHR pieces have been worn by TV personalities, local, state and national pageant contestants, as well as lovers of exquisite jewelry from all over.

Food choices include selections from Village Coffee House, Firehouse Subs, Rock of Ages Winery and food trucks. A man cave area will give male attendees a hangout space if they shop 'til they drop. No fair, say you, females? No worries, anyone can crash in the cave.

The Carolina Spring Pageant takes center stage in the Crown Ballroom from 11 a.m.-3 p.m. Categories include seven age groups: Baby Miss, birth-23 months; Wee Miss, 2-3 years; Tiny Miss, 4-6 years; Little Miss, 7-9 years; Young Miss, 10-12 years; Teen Miss, 13-15 years; and Miss, 16-19 years. Their age determines a contestant's age group on the day of the pageant.
Picture 1: Donna Meixsell (left) and Marie Rudolph (right) founded Dream Girl Events, LLC in Aug. 2019 to express their shared vision for the celebration, empowerment, personal growth and development of and for women.

Contestants will be judged in a party or pageant dress of choice, in the categories of physical appearance, poise, stage presence and behavior. One winner from each age category will be crowned at the event, receiving a title, crown, trophy and swag bag of goodies.

Rudolph — MHR owner, designer and sponsor for the Miss North Carolina and Miss America Outstanding Teen pageants, and business partner Meixsell — a former Miss Fayetteville Dogwood, previous pageant system owner and teacher turned present-day senior sales director with MaryKay Cosmetics — are no strangers to the stage. Rather than buy a franchise, the pair decided to combine their talents and create a new pageant brand.

"Some people have the wrong perception of pageants due to TV and reality shows like "Toddlers and Tiaras," explained Rudolph. "Such shows are not realistic and to the extreme. Meanwhile, other real pageants have had controversies. We want to show the positive side of the pageant world. We desire to help our contestants feel good about themselves and learn to compete in a good, healthy way, and having had a good experience and fun."

"Pageants can be a great way to pay for college," Meixsell continued. "The titles I earned helped me to pay my college costs, and I was not a girl who grew up doing pageants. It is important to us to help young women and girls become the best version of themselves possible."

Between pageants, the fun continues with door prizes and local musicians and dance troupes providing onstage entertainment. Another highlight is the 50/50 raffle opportunity benefiting the nonprofit Fisher House Foundation, with tickets available for purchase at the event door.

Building homes where military and veterans families can stay free of charge while a loved one is in the hospital, FHF provides a hotel alternative and place of respite very close to the hospital or treatment facility. Located at military and Veterans Affairs medical centers around the world, the program saves military and veterans' families time, money and stress during what is often the most stressful of situations: a health crisis. The Fisher House Foundation has saved military families an estimated $451 million in out of pocket costs for lodging and transportation to date.

"We are both military wives with husbands retired from service," said Rudolph. "We feel a strong commitment to the military community and are happy to have this opportunity to support The Fisher House Foundation at Ft. Bragg."

Previous projects for Dream Girl Events in the past year were the Friday Night Live Fantasy Fashion Show event and Shop 'til You Drop Christmas Expo. The successful events return this year on Sept. 18 and Nov. 21, respectively.

For more information on The Carolina Spring Show and the Miss Carolina Spring Pageant, visit https://www.dreamgirlevents.com/. Tickets are $6, available on the website or at the Crown box office. Event admission is free for patrons with military identification.

So, put the cold, wet winter days behind you and a spring in your step this March 14. Grab some friends and head to The Carolina Spring Show for a fun Saturday of shopping and supporting youth, local businesses and a great cause.