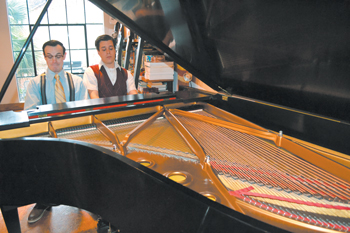 Everybody loves a good mystery!

Let me clue you in on a great way to spend a remarkable evening, or perhaps a Saturday or Sunday matinee, March 5-22. A sold-out house had a great time this past Thursday night at the Cape Fear Regional Theatre, from 7:30- 9 p.m., trying to solve a musical murder mystery. Inside, we were all warm, comfortable, giggly, awestruck and, at times, laughingly flabbergasted.

"Murder for Two," directed by Laura Josepher and starring Trace Pool and Ben Miller, suited everyone's sense of humor, from the youngest to the oldest person. Josepher and the CFRT creative team made sure the actors, script, props, set design, costumes and lighting set the perfect artistic tone.

Who would have thought that weather, murder, mystery, music and a cast of two could have pulled off this "whodunit" with such ease, comedy, endurance, enthusiasm, energy, grace and style?

The plot of this knee-slapping play takes place in a remote New England mansion and centers on a murder that happens during a birthday party. Trace Pool plays investigator Marcus Moscowitz, who is in charge of the case, and Ben Miller plays several different characters who are persons-of-interest for the murder. The suspects include the murder victim's wife Dahlia, ballerina Barrette Lewis (my personal favorite), psychiatrist Dr. Griff, neighbors Murray and Barb Flandon, three young choir boys, and the mysterious "Perfect Partner" for investigator Moscowitz, who always abides by perfect protocol. Since there are both male and female suspects, Miller and Pool tested their entire physical, vocal and visual prowess to pull off very skillful and challenging performances.

Watching Miller and Pool play off each other in such an easygoing, no-nonsense style was delightful. They seemed to be able to read each other's minds, movements and mannerisms, which were essential to pulling the audience into their every line, every animation and every laugh. The audience was included in the set of the play and even participated in one scene.

When questioned about what they liked best and least, the audience said much the same "the ease, the professionalism, the antics, the singing, the piano playing were the best." Least enjoyed, mentioned only by men, was "the mental concentration it took to stay in each moment," but they admitted it was worth it in the end.

Writing this review was a first for me. Then it came to me that I do not usually agree with movie, song or play critics. For me, it is all about pure entertainment, what it makes me think or feel, what gives me joy and pleasure, what makes me sad or cry. So, for my first play review, I just went with what felt good to me and made me smile, and what I saw made others smile as well — and that, folks is entertainment.