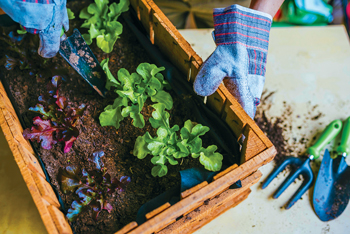 The health of members in our community is important. Due to the spread of the coronavirus, as a precaution, several events have been cancelled throughout the community. Please call to confirm events.
The sixth annual Master Gardeners Spring Garden Symposium promises growth on many fronts. Fresh ideas from gardening experts, a bounty of information and a bushel of fun await attendees. The day is packed with inspiring and insightful presentations, vendors, raffles, auction items and friendly faces. March 21, head to Ramada Plaza at the Bordeaux Convention Center and dig in to one of the area's most refreshing springtime events.
Sponsored by the Cumberland County Master Gardener Volunteer Association, the event brings guest speakers Joe Lamp'l, creator, executive producer and host of the Emmy-award-winning national PBS series "Growing a Greener World"; Kerry Ann Mendez, an award-winning garden educator, author and design consultant whose international gardening webinars are enjoyed by thousands; and Jason Weathington NC State/Cumberland County Extension urban horticulture agent and landscape architect.
The doors open at 8 a.m. with a welcome set for 8:45 a.m. Come early and browse the many vendor booths and silent auction and raffle items.
Mendez opens the program at 9 a.m. with a presentation titled "The Budget-Wise Gardener: Plant the Best for Less! Money-Saving Tips for Purchasing Plants Plus Cost-Saving Garden Designs," which is based on her newest book, The Budget-Wise Gardener. In it, she will talk about how to become a savvy garden shopper. "I also talk about interesting venues and resources and ways to purchase plants beyond the standard garden center," said Mendez. "I encourage people to support family-owned garden centers. There are many other venues, though, that are wonderful. Many flower and garden shows have adopted the policy that at the end of the show, many plants that were used in the display beds in the show will go on sale. You can also get good deals on hardscaping décor.
"Another thing becoming popular is seed banks at libraries where the library has a seed bank and most are edible plants. You check out the seeds, and your responsibility is — at the end of the season — to return some seeds from your harvest. Many organizations also host classes to teach people how to grow their own foods. This is becoming big in inner cities and other food deserts."
Mendez noted that she will talk about 10-15 different ways gardeners can get the most out of the gardening budget without giving up quality.
From 10-10:30 a.m. there will be a break followed by Weathington's presentation "The Outdoor Room." Weathington is a North Carolina Cooperative Extension Agent, Agriculture - Urban Horticulture, at the Cumberland County Center. It's not unusual to get inspired by an outdoor space seen on a home improvement or gardening show, Weathington noted. It's also not unusual for the end result to be less-than-stellar. Sometimes even embarrassing. He aims to help change that.
"The focus of my talk will give people the confidence to go out and create an amazing space, which I think everyone desires to have but very few know how to create," said Weathington. "It's important to go back to basic landscape elements and how you can use them to our advantage. Most of us need to learn some of the basics.
"To me the greatest advantage of an outdoor room is the amount of time you spend outdoors. You are trying to increase the level of comfort because if it is really cold or hot, you won't be out there long. What you are trying to do is reduce those harsh conditions and make it more pleasant, which is better."
And part of that, Weathington said, means getting it right the first time. "Be careful who you take advice from. Making mistakes can get really expensive and frustrating. I had a professor in grad school who talked about experiential quality – that is what a lot of outdoor spaces lack."
A seated lunch is set for 11:30 a.m.-12:45 p.m. Lunch is included in the $70 admission price. This is also the time to get in any last-minute bids for the auction, as it closes at 12:45 p.m. Local plant guru and horticultural expert Roger Mercer will speak briefly from 12:45-1 p.m.
Mendez returns to present "Gardening Simplified: Plants and Design Solutions for Time-Pressed and Maturing Gardeners" from 1-2 p.m. This inspiring lecture provides easy- to-follow right-sizing strategies, recommended no-fuss plant material and design tips for stunning year-round gardens that will be as close to 'autopilot' as you can get. The lecture is based on Mendez's book "The Right-Size Flower Garden."
"Gardening brings such pleasure to our heart and soul, and it is healthy for our heart and mind," Mendez said. "The emotional, physical and spatial benefits of gardening at any size is so rewarding. I wish more people would not be intimidated by gardening. I wish they would get a pot and plant a seed and just try it. … It is so healing and beneficial."
There will be another break from 2-2:30 p.m. This is also when auction winners will be posted.
The final presentation of the day runs from 2:30-3:30 p.m. and comes from Lamp'l. Through video and award-winning photography, attendees will meet fascinating people, see interesting places and learn about innovative ideas of people positively impacting their urban communities and beyond – all with a common thread of urban gardening."We look to tell the stories of inspiring people doing great things for the planet through gardening," said Lamp'l.
"We look for those stories that are new to people — innovators, trendsetters or newsmakers. We set out for stories across the country and bring back footage and memories and turn it into a TV show. I am gonna take about 15 of those stories and share them with the audience with a focus on urban garden stories about people who don't have a place to garden or know how to garden."
This event is a fundraiser for to support local horticulture efforts and for scholarships for Fayetteville Technical Community College horticulture students.
"We give two scholarships at $1,500," said Cumberland County Master Gardener Spring Gardening Symposium Chairperson Judy Dewar. "We also offer grants to teachers who offer horticulture classes. And we strive to find ways to educate our county residents."
Dewar added that this event is for every level of gardener – "There is something from the most adept gardener to the one who has never planted a seed." Search the symposium on Eventbrite to purchase tickets or for more details.