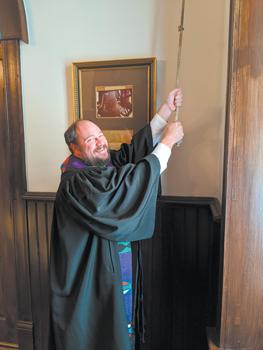 When God closes a door, he opens a window. And, he does this by utilizing his people. Why? Simply put, for their good and his glory. It's been a tradition each year that many churches in the Fayetteville and Cumberland County area join together for a city and countywide Easter sunrise service. This traditional service is a celebration of love, hope, unity and faith. This year, the grand event, which was planned by several area churches, was to be held at Segra Stadium in downtown Fayetteville. However, because of the COVID-19 situation, and in keeping with the North Carolina and the Centers for Disease Control and Prevention's health and safety precautions designed to limit the transmission of the virus, organizers had to cancel the event.

Rev. Robert James of Fayetteville's First Baptist Church on Anderson Street in downtown Fayetteville was one of the coordinators of the event. He was looking forward to filling Segra Stadium on Easter Sunday morning with a congregation of all faiths for a service that would be a demonstration of unity, God's love and encouragement as they celebrate the holy day amid the ongoing challenges of the COVID-19 pandemic.

"I was so excited that our churches would be bringing the Annual Easter Sunrise Service to Segra Stadium this year," said James. "It was a dream that each of the other pastors and I had been pursuing for months. We saw it as a wonderful opportunity to bring our churches and our community together. We hoped that by holding the event at the new stadium that even more churches and more of our neighbors would want to join us in celebrating Easter. Having to cancel this service has been a grieving process for me, and I am sure it has been for each of my colleagues."

James and the other event organizers will replace the service with another very special event that will also inspire the community and express a collective sense of hope, love, unity and faith: The Easter Ringing of the Bells. A communitywide church bell ringing event. On Easter Sunday, April 12, at sunrise — 6:47 a.m. — participating Fayetteville, Fort Bragg and Cumberland County churches are invited to ring their church bells and chimes continuously for five minutes as a symbolic gesture of ringing out assurances of hope, love, unity and faith during this time of crisis, social distancing and isolation. All churches are invited to participate. This will be especially meaningful for some congregations because some churches do not ring their bells during the entire Lenten Season — until Easter. This Sunday, they can ring out joyfully, celebrating the greatest Christian event since the beginning of time — the resurrection of our Lord and Savior, Jesus Christ!

Regardless of the weather, the bells will ring, and the prayers for humanity will rise from the hearts of those within their sound.

For some Christians, these circumstances may not seem so unusual because they believe, as I do, that God sometimes uses events to remind us that when life and things around us seem to careen out of control, his son is the "Christ of the crisis."

Even though we may be curfewed, hunkered down, sheltered in place and practicing social distancing, we are still bound together by God's love. As that old song says, "We'll be one in the Spirit, one in the Lord, and we pray that all unity will one day be restored."

Basil Hume once said, "The greatest gift of Easter is hope." Well, these are desperate and challenging times in which we live. Dark clouds of uncertainty continue to form on the horizon and threaten our way of life — and possibly our existence. It is during these times that we need chimes and bells, lots of bells, ringing out loud and clear as a gallant call to arms, invoking prayer, hope, love, unity and a firm proclamation of faith. This world may never be the same. The COVID-19 crisis could prove to be a game-changer for all humanity. Only God knows the future. In the meantime, may the ringing of church bells this Easter Sunday morning restore your hope and faith in humanity, dispelling any fears that may be lingering in your heart. Inspiration and hope come from the very one for whom Easter is celebrated, the one who proclaims, "Fear not, for I am with you, for I am your God, I will strengthen you. I will hold you up with my victorious hand."

"In a time of so much fear and uncertainty, it brings me hope and joy to imagine church bells all over our community ringing out in unison our faith in God's resurrection power," said James.

Let those bells toll on Easter Sunday morning, not only in Fayetteville and Cumberland County but across America and around the world. Christ has risen and he has risen for all of us, abolishing fear and death and spreading the message that we, too, shall live and become more than conquerors. And that includes the coronavirus pandemic.

Listen up. The bells will ring for you and your family. I am thankful to live in a community that places such high values on love, hope, faith, unity and humankind. Happy Easter!
Pictured: Rev. Rob James ringing the church bell at First Baptist Church, Anderson Street.
Photo credit: Ryann McKay