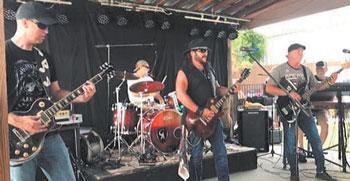 A cool evening breeze drifting lazily up the banks of the Cape Fear River. Live music wafting through the air. Friends and family gathering to enjoy an evening in the fresh air. This is what longtime musician and Fayetteville native Greg Adair had in mind when he set out to bring Rock'n on the River to Fayetteville in 2017. And he had the perfect spot in mind, just across the river from Fayetteville proper near Campbellton Landing.
"It is such a cool place — a quaint place with shade and a meadow off the river," said Adair. "Using the Cape Fear River is always a plus. It has always appealed to me. … I love being riverside."
He first had his sight set on the Sol Rose Amphitheater, home of the Cape Fear Regional Theatre River Show for many years. In the end, he chose to partner with Craig Williams, owner of both the nearby eatery Deep Creek Grill and the sporting goods store Deep Creek Outfitters. "Craig built a stage behind Deep Creek Grill with a permanent top on it," said Adair. "It's perfect for what we wanted to do. We figure we can
fit 1,100-1,200 attendees." And they've already come pretty close to that.
Rock'n on the River hosted its first concert in October of 2018. About 400 people showed up to hear Adair's band, Rivermist, and The Guy Unger Band.
2019's season had three successful concerts. The first brought in close to 400 people. The second had over 500 attendees and the third saw 915 eager listeners show up.
The 2020 season will have a late start but will include six concerts. The first two concerts had to be rescheduled, but even if it means doubling up, the season will be completed, Adair said.
There are two bands at every show, Adair said, a regional or local band performs at 6 p.m., followed by the main headliner. "The headliners are all tribute bands this year," he added.
The Rock'n on the River concerts are set for the third Friday of the month. "We worked around other events, so it gives everyone somewhere to go without putting anything on top of each other," said Adair. "I feel like everyone was getting out before, but I think when things are back to normal, people will really show up."
Deep Creek supplies food for purchase. The menu usually includes barbecue sandwiches, corn on the cob and grilled burgers. "They sell soft drinks, and Healy Wholesale Company, our presenting partner, provides beer for purchase," said Adair. "The CARE Clinic distributes the beverages. Sandy's Automotive has also contributed, and BOB FM has been nothing short of great."
Parking is $10 per vehicle and $5 for a motorcycle, but the concert free. The parking fee allows Adair and the event sponsors to pay for security. "We've never had a problem, and we don't expect to, but we want to be smart and safe. It is always better to have it and not need it than vice versa," Adair said.
Adair and the event sponsors have been thoughtful about providing a safe, unique and fun experience and have implemented all the practical amenities needed for a good time. Before each concert, Mosquito Squad comes out and sprays. "It knocks the mosquito count way down," said Adair. "Then we have portable toilets brought out. They are always clean. We usually have two regular and one handicap-accessible."
Rock'n on the River is about people having access to entertainment. It's about coming together and having a good time. "It is about having a place to go and having a good place to go," said Adair. "There are several places we could go to fit more people, but I would
rather keep it close to the river and have it in a more intimate atmosphere."
Schedule:
June 19 Stone Cloud opens at 6 p.m. followed by Bad Incorporated at 8 p.m.
Stonecloud was formed in the spring of 2016 in Lumberton. The band is multitalented as they can play multiple genres from classical blues to rock and country.
Bad Incorporated is a Bad Company/Paul Rodgers Tribute Band out of North Carolina, honoring the music of British super group Bad Company and its legendary front man Paul Rodgers.
July 17 Throwback Collaboration Band takes the stage at 6 p.m., and North Tower follows at 8 p.m.
Throwback Collaboration Band shares old-school music as well as original music they are proud to call their own.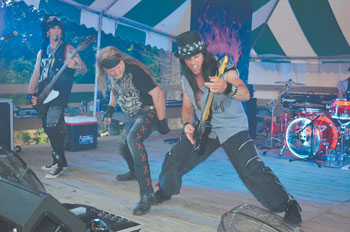 North Tower is a Beach, Top 40 and Show Group. The band launched in October of 1978.
Aug. 21, at 6 p.m., Joyner Young & Marie take the stage, and at 8 p.m., enjoy Heart Breaker.
Joyner Young & Maries has played all over Fayetteville, Southern Pines and Pinehurst for over 30 years. They play a wide variety of music.
Heartbreaker is the Ultimate American tribute to the band Heart. They perform with the goal of playing each song with love, respect, and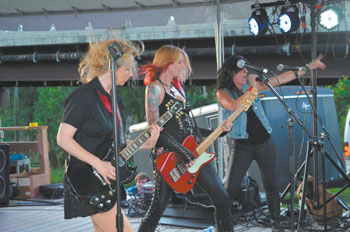 a true passion for the original material; their goal is to bring a truly transcendent, and pitch-perfect concert experience, both musically and visually.
Sept. 18 Rivermist, presented by Up & Coming Weekly, opens at 6 p.m. Tuesdays Gone takes the stage at 8 p.m.
Rivermist was formed in July 2014 in Fayetteville. The band is collaboration of musicians that have been playing in and around the Fayetteville area for more than 40 years. Rivermist is primarily a Classic Rock/ R&B/ Variety party band. They have been voted Fayetteville/ Fort Bragg's 2017 Best Local Band, 2018 Best Local Band, and even more recently, 2019 Best Local Band by Up &
Coming Weekly readers.
Tuesday's Gone is the ultimate tribute to Lynyrd Skynyrd and was formed in 2005 in Raleigh. They are dedicated to reproducing the original sound of one of the greatest and most legendary bands of all time.
Oct. 23's performance was originally scheduled for April and will feature Mostley Crue at 6 p.m. and Shoot to Thrill at 8 p.m.
Möstley Crüe is the ultimate tribute to one of the 80's most notorious and legendary hard rock acts, Mötley Crüe. Möstley Crüe was formed in Raleigh in 2007 and quickly rose in popularity with local and regional hard-rock fans still longing for a taste of the 80s.
Shoot To Thrill is an all-female tribute to AC/DC. They decided on AC/DC in particular, because the band's songs are a marriage of compelling music and creative storytelling.
The Nov. 16 show, which was originally scheduled for May, features Cool Heat at 6 p.m. and Trial by Fire at 8 p.m.
Cool Heat is a variety cover band from Southeastern North Carolina known for playing Motown, R&B, Soul, Funk, Beach and classics from the 60s, 70s and 80s. Cool Heat is made up of five accomplished musicians, three of which have played together since high school.
Trial by Fire is a tribute to Journey. Trial by Fire was born out of the hearts of five seasoned Charlotte-based musicians. They embrace the sound and visuals of the Steve Perry era of Journey.


Find out more about Rock'n on the River at the Rock'n On The River Facebook page.