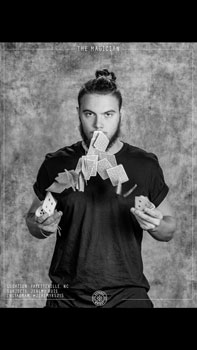 The Arts Council of Fayetteville/Cumberland County presents Hay Street Live: A Virtual Jam Session, every Friday, from 6-7 p.m., streaming live through Facebook.
"Hay Street Live is a virtual jam session that is streamed live through our Facebook account, which is at Facebook.com/TheArtsCouncilFay," said Metoya Scott, public relations manager of the Arts Council of Fayetteville/Cumberland County. "It gives our community a chance to connect with local artists from North Carolina and comment and party in the house."
It's a fun and entertaining way to support and showcase local talent, but with a twist! For each show, the Arts Council invites a mixologist from a local restaurant to share their favorite mixed drinks with the audience and to share the secrets of how to make a perfect cocktail. Often, the drink recipes are original recipes or modern interpretations of classics. The audience gets a new recipe and insight on the science of beverage making, and businesses and mixologists get some exposure — it's a win-win.
The entertainment lineup varies from week to week. Last week, soulful singer Leme Nolan of Beaufort, North Carolina, entertained Fayetteville audiences by belting out covers of pieces by Erykah Badu, Mary J. Blige and SWV, in addition to performing her original work, "Love with a Ring Attached."
The week before that, it was the All-American rock group, The Guy Unger Band — the ultimate "light up your life" party band that really knows how
to rock.
Coming up on the Virtual Hay Street Live program this Friday, May 22, is another local top-notch Carolina rock band known from the mountains to the coast, Rivermist. Voted the 2018 and 2019 Best Band in Fayetteville by Up & Coming Weekly readers, Rivermist has been performing up and down the East Coast since 2014, although the band members have performed together for decades. According to Greg Adair, founding member and manager of Rivermist, they love working locally, especially when supporting the Arts Council, historic downtown Fayetteville and the military. He's proud of the band's motto: "Ain't No Party Like A #rivermistparty cause a Rivermist Party Don't Stop!"
The band did not feel right about accepting donations or tips during Hay Street Live for their personal use because of the circumstances of the virtual event, but there will be a link to the Dr. Susan Love Foundation for Breast Cancer Research should people decide to donate on behalf of the band.
Rivermist hopes to replicate the feeling of a live performance. "We figured what we'd do is set up several cameras — we've got a system that we're going to try to use," Adair explained. "We're going to try to do a full stage, lights, everything show. I know it's going to be more work and a lot more tech involved, but people have waited this long for it."
Adair hopes that people will interact with the band online while the event is streaming and even make requests.
Hosted by Bill Bowman, publisher of the Up & Coming Weekly newspaper, he will introduce the evening's official guest mixologist, Joseph "BEAR" Dewberry, owner of On After Bar & Grub. BEAR will introduce viewers to two of his favorite signature summer drinks — "Bear's Southern Peach" and the "Hot Head."
In addition, Hay Street Live introduces Jeremy Ruis, a young Fayetteville-born magician who has been making magic an art since he was 7 years old. Watch closely. Jeremy brings fun, wonder and amazement everywhere he goes.
Since the arrival of COVID-19, the Arts Council's in-person events have been canceled, but that doesn't mean the fun stops. "During this uncertain time, we want to give people a way to connect and still be entertained," said Scott. "We recently had to cancel an exhibition, and the artist donated the money that they paid to have their art exhibited back to the Arts Council. That really warmed our hearts, so we wanted to do something to promote our artists — so we started doing Hay Street Live."
Scott added that because COVID-19 has impacted so many artists, the Arts Council wanted to give them a platform to continue to share their artistry while engaging people at home with high-quality entertainment. With a little creative thinking, it didn't take long to come up with something different and entertaining to look forward to every Friday night.
"Please join us by streaming — and interact by asking the band, bartender or host questions," said Scott. "This event allows you to have a really
good time."
There is a page on the Arts Council's website for bands or artists to apply to perform. The performer for Hay Street Live on May 29 will be Kiari Moon. Viewers can send a virtual tip to the performer by visiting www.wearethearts.com. Visit www.theartscouncil.com for more information.
Virtual 4th Friday
The excitement doesn't stop when Hay Street Live ends. In a typical month, Fayetteville citizens could look forward to walking the streets of downtown Fayetteville, perusing local businesses, looking at art, hearing great music and participating in events for the Cool Spring Downtown District's 4th Friday event. Although little has been typical recently, CSDD has been working hard to provide the same level of entertainment and fun that locals look forward to every month but all available through handy technology. From 7-8 p.m., visit the Facebook page at https://www.facebook.com/events/1131937423837143/ to see a livestreamed Virtual 4th Friday.
"We want to help our downtown community during this time, and virtual 4th Friday is one of the few ways we can do that … 4th Friday is another thing people can experience from the comfort of their own homes but also be directed to a website with downtown businesses that are currently open," explained Lauren Falls, the marketing and events director for CSDD. "We want to do that because we not only want to support our downtown community but give back during this time. Virtual 4th Fridays are one of the few ways we can do that."
If you loved Rivermist's music for Hay Street Live, they will be back for an encore performance for the 4th Friday live stream. In addition to the live music, Matthew Mercer will create some new art during the stream. Mercer has an impressive resume. In his 20-year career, he has illustrated three books, drawn a family portrait of NFL Hall-of-Famer Emmit Smith of the Dallas Cowboys and his family and even been invited to the White House, where he drew a family portrait for President Barack Obama. In addition to these impressive achievements, Mercer has drawn over 20,000 caricatures between working as an artist at Walt Disney World and his own business.
"I think virtual events are important for the community not just to have something to do, but the way we try to do our 4th Friday event is to try to encourage people to shop, eat, and support local," Falls said.