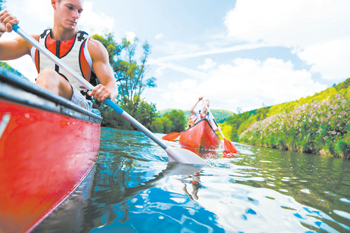 Now that warmer days are upon us, I seek the refuge of water with my activity of choice kayaking. I have always had a mermaid soul that draws me to the water for activities such as paddle boarding, boogie boarding, swimming and surfing, but the kayaking experience has been unique. This versatile sport can be enjoyed in many different settings, from the river to open lakes and even the beach. I also love that the kayaking community is quite diverse in terms of age and physical ability. Anyone, even you landlubbers, can enjoy this sport.
If you do not own a kayak, a few places offer kayaks for rent. I appreciate these options as different types and sizes allow people to try them out and find a comfortable fit. I own a sit-in kayak, where my legs fit inside the vessel. Some buccaneers own sit-on-top kayaks, a flat style allowing legs to stay exposed, and prefer that style for both the rowing and what else – tanning. My 10-year-old daughter uses this type of kayak; it is safer, I feel, in the event she has to abandon ship. Everyone seems to have their preferences, so I think renting for a day to "test the waters" is a great option.
When I first began kayaking, I found it a pleasant surprise the number of places available for kayak access in the local community. The locations vary in level of difficulty and offerings regarding fees and amenities such as shuttle services, guided tours, events and classes. Some kayakers like such programming, while others prefer to strike out on their own.
Spring Lake Outpost on the Lower Little River in Spring Lake has rental options, guided tours and self-guided options. Book a fun float such as the SLO Glow Canoe or SLO Glow Kayak trip; Freedom Float for the Fallen; Memorial Candle Release or an adult, youth or tandem short-route trip. One option allows you to rent their vessel or use your own kayak to put in. You travel downriver to a designated location where SLO guides pick you up and drive you back to the starting point.
Another site for a similar shuttle experience is Cape Fear Adventures in Lillington. I enjoy this area of the Cape Fear River in neighboring Harnett County as it is wide enough to give paddlers the freedom to explore with minimal obstacles. I have visited on days when it was calm enough to row upriver and then almost sail back down to the ramp for departure. With a kayak, canoe or paddleboard rental, you can book the Leisure Paddle, Easy Float, 10-mile Challenge, Epic Overnight or Sunset Paddle. Rev up the action with Stand-Up Paddle Board Yoga or Whitewater Kayaking. Slow it down with Lazy River Tubing.
If you are not into the river scene, several lakes in the local area allow you to launch your kayak free of charge. A few of my favorites are Hope Mills Lake in Hope Mills, Lake Rim in west Fayetteville and Mott Lake on Fort Bragg. All have ramps for easy water access, but Hope Mills Lake provides a nice kayak ramp that makes embarkment a snap. Lake Rim Park offers guided lake tours and off-site paddling adventures as well.
I like to take a few things on my kayak adventures that you may wish to take, too: a small cooler with water and snacks, bug spray, a sun hat or sunglasses and flip flops or water shoes. Requirements are life jackets for each person and an emergency whistle, just in case.
Don't forget to batten down the hatches, as even on calm days, it's easy to lose a phone to the water. How devastating it would be to miss out on sharing pictures of your adventure with your social media mates. So, grab your Mer Pals, hit the open water and beat the heat this summer.