The middle of September ushers in the unofficial beginning of fall, a time of year when many feel reenergized by cooler temperatures and are eager to spend more hours outdoors enjoying all the local area has to offer. Whether one is collecting leaves, picking pumpkins, exploring corn mazes, or biking one of the many trails, autumn is full of fun opportunities that can make the season that much more enjoyable.
Fayetteville Cumberland Parks and Recreation offers a number of outdoor activities for the whole family, from a community garden, bike and jogging trails to the new skate park. Although COVID-19 restrictions have closed many facilities, all parks, trails and the Rowan Street Skate Park are open. Playgrounds reopened earlier this month. Basketball courts at all parks remain closed. Recreation centers remain closed. The pools and splash pads have been closed the entire summer due to COVID-19 restrictions.
FCPR posts updates to hours and restrictions on its webpage and Facebook page. For more information on specific locations, visit www.fcpr.us/ or www.facebook.com/fcpr.us, or call the administrative office at 910-433-1547.
Gardening can be a fun and educational activity for all ages and can be physically and mentally engaging. The potential benefits are endless.
The Fayetteville Community Garden is a five-acre area with plots available for planting vegetables, flowers and herbs. Plots are raised beds about 20 feet by 20 feet. Patrons rent space, and FCPR supplies garden boxes, compost and water. The garden is organic in nature, therefore no chemicals or synthetic herbicides, insecticides, fungicides or fertilizers are allowed. Plots may be rented for $25. The garden is open year-round during daylight hours. The garden is located at the intersection of Vanstory and Mann Streets.
Clark Park and its Nature Center join the Cape Fear River Trail and Moses Mathis "Bicycle Man" playground/trailhead to form a complex suited to hours of enjoyment and education. The city's second largest regional park remains a natural area dedicated to preserving the environment, educating the public about nature, and providing the only camping in the area. The Nature Center's museum features displays and free viewing of live animals.
Visitors can picnic overlooking the woods and one of the highest waterfalls east of the mountains. For those interested in walking or jogging, the park has its own set of unpaved trails and also serves as a trailhead for the paved CFRT. Well behaved, leashed pets are welcome on trails as long you clean up after them.
Clark Park Nature Center offers nature and recreation programming for educators, groups, individuals and families. You must preregister for all programs. Contact the park office at 910-433-1579 for program information or visit www.facebook.com/fcprnature.
The Cape Fear River Trail is a 10-foot-wide paved path for walkers, joggers and bicyclists. It winds for nearly 5.3 miles, one-way, through a beautiful blend of trees, plants and wildlife with views of the river. The terrain can be flat or slightly hilly. In addition to wooden bridges, including one covered bridge, there is more than 1,000 feet of boardwalk through the marsh and wetlands along the trail.
Along the trail are signs explaining the wildlife and plant life found in the area. There are more than 700 species of plants and trees and 150 species of birds. Frogs, lizards and turtles are common sights, with an occasional deer. The River Trail area is home to an unusual combination and diversity of hardwood trees.
The Cape Fear Mountain Bike Trail is a feature of the Cape Fear River Trail/Clark Park area with just under three miles of trail accessible off the CFRT. Access is located 1 mile north of Clark Park, traveling towards Methodist College (not far from the intersection with Eastwood Avenue). It consists of two sections on opposite sides of the trail. The first half mile is more technical with tighter turns and rollers, suitable for experienced riders. After crossing the CFRT it becomes a meandering woodland trail for beginners.
The trails are open daily from 8 a.m. to dusk. Parking is available at Clark Park. Restrooms are located at the Jordan Soccer Complex and at the Clark Park Nature Center during Clark Park's operating hours.
For those interested in agritourism, Gillis Hill Farm is open Monday through Saturday from 11 a.m. until 6 p.m.
The Gillis family has been farming the same land for nine generations, starting in the timber business, moving to traditional row crops and agritourism over the years.
For the price of an ice cream (or a $3 ticket), visitors can go on a self-guided tour of the working farm.
Gillis Hill also offers school and group tours that run twice daily at 9 a.m. and 10:30 a.m. Wednesday through Friday. Group tours consist of a "Farm Life" movie showing what it's like as a kid growing up on the farm, a historic walking tour, a wagon ride, animal feeding and a seed kit to take home.
The farm is located at 2701 Gillis Hill Rd. in Fayetteville. To schedule a tour or find additional information, call 910-867-2350 or visit https://ghfarm.square.site/.
A visit to Gross Farms offers fun and entertainment for the whole family with sites and activities including a 10-acre corn maze, a pumpkin patch, hayrides, a play area and a picnic area. Visitors can purchase a combo ticket for access to everything or buy tickets for individual activities. Military and group discounts are available.
Gross Farms is located at 1606 Pickett Road in Sandford. For information, call 919-498-6727 or visit www.grossfarms.com.
Hubb's Farm is another agritourism destination with activities to entertain the whole family, including a corn maze, pumpkin patch, animals and a long list of attractions. In addition to being a year-round venue to book parties and events, the farm offers school and group tours.
In addition to regular farm activities, there are a number of seasonal events scheduled.
Sunflowers Galore is scheduled to open today with opportunities Sept. 17, 18, 19, 23, 24, 25. Sunflower stems can be purchased and visitors can take photographs in the sunflower field.
The Fall Drive-In Movie Series begins Sept. 26 and runs every Saturday in October. Gates open at 7 p.m. and the movie starts at 8 p.m. Movie titles will be posted on the website.
The corn maze and pumpkin patch will run Sept. 26 through Nov. 7 on Saturdays from 10 a.m. to 6 p.m. and Sundays from 1–6 p.m. Weekday hours are yet to be set.
The Flashlight Maze will be open 7-10 p.m. on Friday nights in October. Visitors can navigate the maze under the stars. Fire pits can be reserved.
Hubb's Farm is located at 10276 US Hwy 421 North in Clinton. For more information call 910-564-6709 or visit www.hubbsfarmnc.com/ or https://www.facebook.com/HubbsFarmNC/.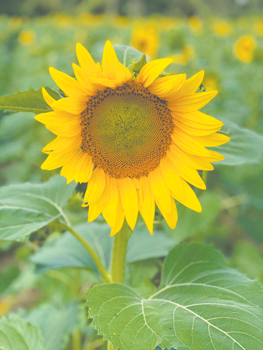 Pictures left to right:
Sunflowers Galore opens Sept. 16 at Hubb's Farm. For a small fee, visitors can pose for photos in the field, or purchase stems to take home.
The Cape Fear Mountain Bike Trail is accessible off the Cape Fear River Trail. It offers areas for beginners and experienced riders.
Gillis Hill Farm is open for self-guided walks or group tours through the farm.