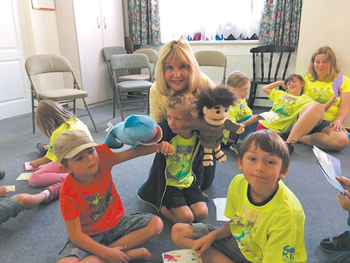 His Outreach Worldwide Ministry will host a BBQ Fundraiser Saturday, Oct. 3, to support the construction of a school building in Tamu, Myanmar. The barbecue will be held at the ministry's "log cabin," located at 2770 Breezewood Ave., from 1-5 p.m., for takeout or a picnic on the grounds. The food will be priced at $10 per plate.
"We are praying we will have a huge turn out, we need at least $5,000 for the school, and it has to be finished by January," said Lynne O'Quinn, president of H.O.W. "We are really needing this funding now and needing it quickly."
The barbecue will benefit over 100 children in the Tamu area attending His Outreach Worldwide School, the only government-licensed English-teaching school in the area.
The event will offer great food by Hopkins Barbeque and great music on the patio by Currie Wayne Clayton Jr., O'Quinn said.
The ministry is excited to have the accomplished musician Currie Wayne, who has played with the rock band Molly Hatchet in the past and has won many musical championships.
O'Quinn said she believes the fundraiser will be a great event that will be outdoors, and a lot of people are looking forward to it, especially since the pandemic.
"We'd love for people to come that day, purchase tickets, enjoy the entertainment and just have a great day," she said.
H.O.W., a Christian ministry, was founded in 2008 in Fayetteville by O'Quinn and supports several activities around the world, including providing funds, food, clothes and more. The faith-based organization is founded on prayer and God's word.
"In a nutshell, God woke me up one morning and wrote a book through me sharing Jesus to children around the world," O'Quinn said. "That one little book is what founded this worldwide
ministry."
The barbecue is one of its many fundraising events, including an annual 5K, which was cancelled this year due to COVID-19 restrictions.
"We are praying for a great sunny, fall day and attendees are encouraged to bring their own chairs to comply with social distancing and have a picnic on the grounds," O'Quinn said.
"Bring your own chair, grab a plate of barbecue, sit here and have great entertainment and fellowship," she added.
For more information about H.O.W. or the BBQ, visit http://hisoutreachworldwide.org/
Pictured: His Outreach Worldwide Ministry President Lynne O'Quinn entertains children at a H.O.W. project at a day camp in Brno, Czech Republic.