The veterans-supported nonprofit organization, Whole Vet Building Lives Together, makes its community-event debut in Cumberland County Oct. 24 with the Braggin' Through the 'Ville Car, Truck, Jeep and Bike Show at I-95 Muscle from 9 a.m.-4 p.m.
A classic, used and new car retailer located at 4115 Legion Rd. in Hope Mills, I-95 Muscle is a frequent host to car shows, movie nights and community events. Benefiting Whole Vet, the show features multiple vehicle divisions in both judged and nonjudged categories, as well as food trucks, a DJ, drawings and raffles. The event is open to the public for viewing.
"Life is all about connection that becomes trusted relationships" is the mantra and guiding life principle of Dale Robbins, the founder and CEO of Whole Vet, a 501c3 nonprofit serving veterans, service members and their families. The quote speaks to the doors that have opened to Robbins along his 10-year-journey with volunteer veterans affairs and with the start of this fledgling organization. However, the phrase also provides a glimpse into what matters to this local man — namely, building lasting bonds and putting programs in place to impact the lives of service members, both past and present.
Whole Vet seeks to provide veterans, transitioning servicemembers from all military branches, National Guard and Reserve members, and their families, with the tools, resources and support to have a fulfilling civilian career and life.
Robbins, a 19-year-veteran of Cisco Systems with over 25 years total spent in corporate America, never served in the military. His trajectory toward nonprofit work and interest in the nation's armed forces and veterans began with a deep sense of admiration for those who serve and have served, coupled with years of physical and medical challenges both he and his family faced and eventually overcame. The times of struggle magnified his faith in God and belief that he was being called to do something more with his life. Already a long-term volunteer in his workplace with veteran relations and events, Robbins saw a real need and an open door to step-up and serve this population of selfless individuals more directly. Now engaged in full-time work with Whole Vet, Robbins explained his outlook for the organization.
"This is a comprehensive vision to create a platform that can serve our military and veteran community," he said. "Everything from helping them make connections at our events to getting jobs and internships to the mentorship piece that gives them someone that really cares — these are all components of Whole Vet."
According to Robbins, Whole Vet encompasses building up the life of the veteran physically, spiritually, mentally, social-emotionally, economically and beyond — the whole person, in other words. The organizational colors, purple and white, are symbolic of representing all branches of service memebers. Purple is the combination of Army green, Coast Guard blue, Air Force blue, Marine red and Navy blue. Hence the saying, "Purple Up!" a national slogan used to solicit support for military families and kids.
In addition to purple up, Whole Vet seeks to build up the career and family of Whole Vet clients, a twofold mission, as well as create community between the private sector and military and veteran groups. Robbins established the Military and Veteran Enablement Coalition made up of vested parties to help get this job done. Like seed to soil, the tasks grow as the nonprofit does.
While operating on Harnett and Wake county lines in North Carolina in Robbins' home office in Willow Springs, the company founder describes his vision as stretching across the state, country and beyond. Since 2017, the Whole Vet's Military Career Transition Event, has been held in Raleigh, Cary, Clayton and Wilmington.
Employer-focused virtual sessions kicked off in 2020 in keeping with the pandemic, with programs serving Fort Bragg, Marine Corps Base Camp Lejeune, Cherry Point Marine Corps Air Station and more. These networking, employer-spotlight events help transitioning service members connect with corporate representatives from companies such as Biogen, Pike Corporation, PSA Airlines, NetApp, SAS, Biotest Pharmaceuticals. Educational entities like Campbell University, East Carolina University and North Carolina State University are also at the table.
Large scale conferences from Whole Vet welcome governmental giants such as the North Carolina State Highway Patrol, NC Troops to Teachers and the State of North Carolina governmental agencies. Veterans-affiliated institutions that, on paper, reads like a Who's Who list, have made a great showing at these Whole Vet days. Present and accounted for have been NC4ME, Onward2Opportunity, Hire Heroes USA, The Honor Foundation, USO-NC, Marine for Life Network, K9s Serving Vets and Hope for The Warriors, to name a few. Other event offerings include professional development panels, workshops, networking opportunities and inspirational speakers.
In conjunction with transition events, Whole Vet hosts quarterly Military Corporate Networking campus visits. These tours have been held at host company campuses such as Biogen in RTP, Deutsche Bank in Cary and Caterpillar of Clayton to allow participants to experience the corporate environment while gaining valuable insight on civilian career paths. The tours also help participants make connections and build relationships, a familiar Whole Vet refrain.
Though standard programming is on hold due to COVID-19, Robbins looks forward to resuming a regular schedule as soon as possible.
After rolling out the red carpet to military members and veterans with exceptional and well-executed events, Robbins plans next to put mentorship, marriage and youth programs center stage. First up: The Military Mentorship Program.
Mentors and mentees will be matched to align servicemembers who are exiting the military with a civilian that can share feedback, knowledge and contacts to ease the transition process to a nonmilitary career. Mentors will come from a participating MVEC company.
The marriage and youth tracks will begin once additional program funding is secured from sources such as grants, donations, sponsorships and fundraising avenues. According to Robbins, retreats and conferences are in the line-up for marriage programming, while collaboration with the General H. Hugh Shelton Leadership Center at North Carolina State University is on tap for youth directives.
Are you interested in learning more? Options exist to give your time, talents and resources to Whole Vet, as well as participate. Community events like the I-95 Muscle car show are held to bring fun, fellowship and some fundraising to bear.
To learn more, go to https://www.facebook.wholevetinc. You can also check the T-shirt box by sporting Whole Vet gear available at their online store, https://wholevet.square.site/.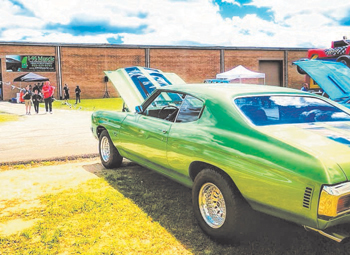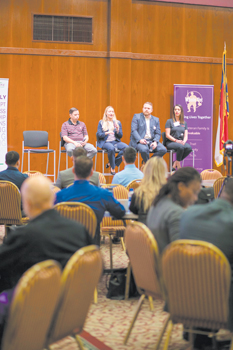 Pictured: Nonprofit Whole Vet raises funds through activities such as car shows to support veterans initiatives like mentorship programs, job networking conferences and counseling services.